Baghdad, Iraq — Gunmen fired on supporters of the radical Shiite cleric Muqtada al-Sadr on Friday, killing one person and wounding two others as they made their way to protests planned for the second anniversary of Baghdad's fall to U.S.-led troops.
In the poor New Baghdad neighborhood, meanwhile, four children were killed Friday when they came across explosives while digging through garbage for metal scraps, witnesses and police said. It was unclear what caused the blast.
"It's really ironic," said Qais Mousa, who saw the explosion. "We are living in a rich country, while these poor innocents are dying in this horrible way."
After dark Friday, al-Sadr supporters marched and chanted through the city, hanging anti-U.S. banners on columns surrounding Firdos Square, where a jubilant crowd pulled down a statue of Saddam Hussein on April 9, 2003, as U.S. troops spread through the capital.
Al-Sadr had urged his supporters to gather today at the square, and a group was at the landmark along with police after the 11 p.m. curfew. U.S. and Iraqi officials said they were preparing for today's demonstration.
The cleric has kept out of the limelight since his Mahdi Army militiamen accepted truces last year after failed uprisings in the southern city of Najaf and Baghdad's Sadr City neighborhood. But he has stepped up criticism of the United States in recent weeks, mostly by organizing today's protest.
Sunni Muslim clerics also called for demonstrations today to demand that American and other foreign troops leave Iraq.
Sheik Hassan al-Edhari, an official at al-Sadr's Baghdad office, said al-Sadr's mainly Shiite followers wanted the new Iraqi government to set a schedule for pulling out foreign troops and putting Saddam on trial.
During his Friday morning sermon in the capital, the head of an influential Sunni group accused coalition forces of "killing the Iraqi people daily."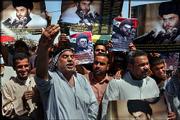 "We demand that the occupation troops withdraw from Iraq. We don't want them to do it immediately, but we want them to set a timetable for their withdrawal," said Sheik Harith al-Dahri, whose Association of Muslim Scholars is believed to have ties to Iraq's insurgents.
But at another Sunni mosque in Baghdad, Sheik Ahmad Hasan al-Taha instructed worshippers to refrain from marking today's anniversary. Al-Taha also called for the release of arrested religious figures, claiming there were more than 90 imams in detention.
U.S. military officials said they had nothing planned to mark the anniversary, and refused to comment on security measures. But additional Bradley Fighting Vehicles and Humvees were seen in areas where demonstrations were expected.
Al-Sadr's office asked Iraqi police and army to protect today's gathering. The protest would stand in sharp contrast from two years ago, when Iraqis pulled down Saddam's statue with the help of U.S. Marines and a small group from the Shiite majority, which was oppressed under Saddam's Sunni-dominated regime, triumphantly beat their chests with their fists.
As of Friday, at least 1,545 members of the U.S. military have died since the beginning of the Iraq war in March 2003, according to an Associated Press count. At least 1,174 died as a result of hostile action, according to the Defense Department. The figures include four military civilians.Since May 1, 2003, when President Bush declared that major combat operations in Iraq had ended, 1,407 U.S. military members have died, according to AP's count. That includes at least 1,065 deaths resulting from hostile action, according to the military's numbers.
Since then, Iraqis have lived moments of despair and others of triumph as the country witnessed a wave of crime, the bloody insurgency and the first free elections in a half-century.
While some in Baghdad plan to mark the second anniversary of the city's fall with protests, others say the Jan. 30 parliamentary elections have made them optimistic better days may come.
"Baghdad is beautiful with its people," said Safa Adnan, 40. "What's important now is that we rebuild the Iraqi citizen. We want a new generation that is raised well, cultured and open to the rest of the world."
Copyright 2018 The Associated Press. All rights reserved. This material may not be published, broadcast, rewritten or redistributed. We strive to uphold our values for every story published.