Europe's longest-running murder mystery will be performed in Lawrence starting this week.
The Lawrence Community Theatre's rendition of Agatha Christie's "Mousetrap" begins Friday. The show, which has played for more than 50 years in London, is under the direction of Michael Doll, who is helming his first show at the theater. He says the cast and crew haven't changed anything from the original script.
"I think the audience is in for a treat," he said. "It really keeps you guessing all the way to the end."
The cast, a mix of Lawrence Community Theatre veterans and rookies, will take the audience through Christie's classic whodunit of eight people snowed in at a guesthouse. Among them just happens to be a detective, played by Mark Mackie. Other characters include the homeowners, played by Chris Price and Catherine Skorupski; four people who were invited to stay at the house, played by Jane Malin, Charles Decedue, Kendra Verhage and Joshua Chaikin; and a man, played by Tom Jerome, who seeks shelter after he overturns his car in the storm.
When one of the guests is murdered, the detective goes to work questioning the remaining characters, who all seem to avoid the truth. With snow-blocked roads and no phone lines, the detective must act quickly before another guest is killed.
Doll, who is being assisted by Mary Ann Saunders, said people would have to see the show to find out more.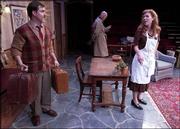 "I don't want to say too much," he said. "I don't want to give anything away."
The cast and crew have been rehearsing since early March, with dress rehearsals beginning this week.
Doll, who studied theater at Fort Hays State University, said his first directing experience with the Lawrence Community Theatre had been satisfying and he hoped to work with the theater more. Before moving to Lawrence, Doll taught high school drama and did some community theater work in Kansas City. He now works as a technical producer at Kansas University's Hoch Auditorium. He said the show would keep the audience guessing.
"It's the classic whodunit. Everyone is suspect," he said. "There are lots of twists and turns, and it kind of keeps you going to the very end."
When: April 8-10, 14-17 and 21-24. Show times are 7:30 p.m. Thursday, 8 p.m. Friday-Saturday and 2:30 p.m. SundayWhere: Lawrence Community Theatre, 1501 N.H.Tickets: $16-$17Ticket info: 843-7469
It is estimated that more than 10 million people have seen "Mousetrap" since it made its stage debut in 1952 in London. Doll said he was hoping for that kind of success in Lawrence as well -- on a smaller scale, of course.
Copyright 2018 The Lawrence Journal-World. All rights reserved. This material may not be published, broadcast, rewritten or redistributed. We strive to uphold our values for every story published.