Baghdad, Iraq — Influential Sunni Muslim clerics who once condemned Iraqi security force members as traitors made a surprise turnaround Friday and encouraged citizens to join the nascent police and army.
If heeded, the announcement could strengthen the image of the officers and soldiers trying to take over the fight against the Sunni-led insurgency.
Still, it wasn't a full-fledged endorsement. The edict, endorsed by a group of 64 Sunni clerics and scholars, instructed enlistees to refrain from helping foreign troops against their own countrymen.
Ahmed Abdul Ghafour al-Samarrai, a cleric in the Association of Muslim Scholars, read the edict during a sermon at a major Sunni mosque in Baghdad. He said it was necessary for Sunnis to join the security forces to prevent Iraqi police and army from falling into "the hands of those who have caused chaos, destruction and violated the sanctities."
It seemed to be a recognition by the Sunni minority, which dominated under former dictator Saddam Hussein, that Iraq's interim government is slowly retaking control of the nation and paving the way for a U.S. withdrawal.
In the central city of Samarra, an explosion Friday blew away part of a wall on top of a minaret from a ninth-century mosque, scattering rubble on the stairs that spiral up the outside of one of Iraq's most recognized landmarks.
Witnesses said two men climbed the 170-foot-tall minaret, then returned to the ground before the blast. The U.S. military blamed insurgents.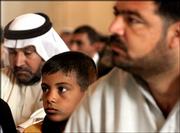 It was unclear why the minaret was targeted. U.S. troops have used it as a sniper position, and last year the terrorist group al-Qaida in Iraq, led by Jordanian Abu Musab al-Zarqawi, flew a flag from its peak. Sgt. Brian Thomas, a spokesman for the 42nd Infantry Division, said coalition forces no longer used the minaret.
Radical Shiite cleric Muqtada al-Sadr, who led uprisings against the U.S.-led coalition last year, called on his supporters to stage a protest April 9 in Baghdad to mark the second anniversary of U.S. troops entering the capital.
Copyright 2018 The Associated Press. All rights reserved. This material may not be published, broadcast, rewritten or redistributed. We strive to uphold our values for every story published.