Baghdad, Iraq — A suicide car bomber blew himself up Thursday near an Islamic shrine, killing five Iraqis in the latest attack on Shiite Muslim pilgrims marking a major religious holiday.
The blast in Tuz Khormato, 55 miles south of Kirkuk, killed three civilians, including a child, and two soldiers helping guard the shrine, police reported. Sixteen people were wounded, hospital officials said.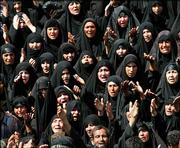 Fighters from the Sunni Muslim-led insurgency staged a string of attacks on Shiite pilgrims in the days leading up to the festival, which marks the end of a 40-day mourning period for Imam Hussein, grandson of the Prophet Muhammad and one of Shiites' most important saints.
The day's biggest gathering was in the holy city of Karbala, where hundreds of thousands of pilgrims visited two shrines, marched in honor of Hussein and beat their chests with their fists in a sign of mourning.
Seeking to head off attacks, police in Karbala closed streets to vehicles, set up checkpoints and frisked people for weapons. No major incidents were reported.
Late Wednesday, gunmen ambushed a truck carrying pilgrims near Hillah, 60 miles south of Baghdad, and killed one person, and an attack earlier in the day killed a pilgrim in southern Iraq. On Monday, two attacks on pilgrims left four dead, including two police officers.
Ukrainian President Viktor Yushchenko, meanwhile, said his country's troops would leave Iraq by year's end. Italy also moved closer to pulling out some troops. Premier Silvio Berlusconi said he planned to reduce the troops contingent at the end of September by about 300 soldiers. The move would trim about 10 percent of Italy's contingent of 3,300.
Copyright 2017 The Associated Press. All rights reserved. This material may not be published, broadcast, rewritten or redistributed. We strive to uphold our values for every story published.