While many people are paying more for construction materials, Lawrence High School shop teacher Jay Hundley is avoiding the high costs associated with lumber.
How is he doing it?
"What we do is, usually twice a year, we get a portable band saw mill that pulls up outside of wood shop here at Lawrence High School and we spend all day just cutting up logs," Hundley said.
Hundley has been a shop teacher at LHS for seven years. For six of those years, he and his students have kept their eyes open for logs to be turned into lumber for wood shop projects.
It's all because Hundley said he couldn't find a reliable, cheap source of quality wood.
In his first year at LHS, Hundley made trips to the Kansas City area and purchased relatively low-quality wood, but it still had a high price tag. The cost was passed along to students.
By renting a portable saw mill, Hundley said students got to work with better-quality lumber for less money.
He charges students $1 per board foot. The fee includes any additional supplies students may need for a project. That could include sandpaper, screws, glue, dust masks and paint brushes. Hundley said all the money students pay for materials goes into an account used to purchase more supplies and rent the portable band saw.
If students complain about the cost, Hundley gives them an alternative.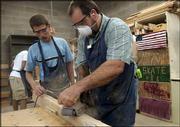 "I tell them to go buy the same goods at Home Depot or in Kansas City," Hundley said. "They come back, and I don't hear any more about it. When they find out what I'm selling them for a $1 a foot and they can't get it anywhere else for even close to that, they're pretty sheepish."
Hundley said depending on the type of wood and its size, the cost of a board foot could be anywhere from $2 to $5.
"It's a lot better than buying it" elsewhere, said Ross Ray, 17, a wood shop student. "Prices are way up right now for materials."
Ray said he worked for his dad's handyman business last summer, and buying lumber to make repairs didn't come cheaply.
The price is better even compared to other schools, said Kyle Snyder, 15. He transferred to LHS from Eudora High School, where he said wood shop students were charged $4.50 per board foot.
Copyright 2018 The Lawrence Journal-World. All rights reserved. This material may not be published, broadcast, rewritten or redistributed. We strive to uphold our values for every story published.