Traffic was stacked more than a dozen cars deep Friday afternoon at the four-way stop at Harvard Road and Wakarusa Drive after a Homecoming parade for Free State High School.
Sally Heilman, who stood nearby in the parking lot of Mustard Seed Christian Fellowship, admitted traffic in the intersection was daunting.
"I go that way," Heilman said, pointing into a nearby neighborhood and away from Wakarusa Drive.
But Heilman said she didn't agree with a recent City Hall assessment that ranked Harvard and Wakarusa as the city intersection most in need of improvements with traffic signals, roundabouts or other devices that would help traffic flow.
"I don't have that big a problem with it, to be honest," she said. "I think Wakarusa and 15th is much worse."
Her friend, Karla Spurgeon, agreed.
"We just had a daughter move into (Kansas University's) Templin Hall," Spurgeon said. "I'd say 15th and Engel is the worst in town."
They weren't far off the mark.
The annual city report, which lists the 11 Lawrence intersections most in need of improvements, ranked Bob Billings Parkway and Wakarusa Drive third. A close fourth was 15th Street and Engel Road. They were just behind the confluence of Wakarusa Road with Inverness and Legends drives in second place.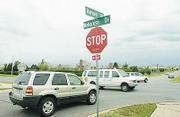 The city's Traffic Safety Commission reviewed the report last week, but that doesn't mean improvements are pending. Changing Harvard and Wakarusa would cost an estimated $550,000; improving the whole list would cost a total $6.1 million.
"There is no requirement that any of the priorities get funded," said David Woosley, the city traffic engineer. "That is at the discretion of the City Commission."
Three types of criteria went into determining the list:
Crash rate: Kasold Drive and Peterson Road had the highest crash rate of any intersection on the list.
"Warrants met": A broad list of federally-approved engineering factors that includes pedestrian traffic, average speed of traffic and information about nearby schools and nursing homes.
Traffic volume: Harvard and Wakarusa had the highest amount of traffic on the list.





Woosley said specific plans to improve each intersection had not been made.
"A study would be conducted to determine what improvements are most appropriate," he said. "The two most typical types of improvements would be a traffic signal or a roundabout."
But like the city's capital improvement plan, the list reflected the wishes and priorities of city officials more than the likelihood that a project will be paid for and built. Those determinations are made during City Hall's annual budget sessions every summer.
"The list is not necessarily approved," Woosley said. "It is just a list of priorities based on certain criteria."
Copyright 2018 The Lawrence Journal-World. All rights reserved. This material may not be published, broadcast, rewritten or redistributed. We strive to uphold our values for every story published.