Kathy Campbell might be understating her creative philosophy when she says, "I like humor in my artwork, sometimes."
She points to a photograph of a gift she recently made for a friend. In the snapshot, a slightly cartoonish, plastic bust of Saddam Hussein rises out of a ring of pink tulle, his uniform painted a rosy hue and his mouth pasted with garish red lipstick.
"That's Saddam Hussein, who I dressed up as a woman," Campbell says. "He humiliated so many people; I wanted him to be humiliated."
Whatever your political persuasion, it's hard not to chuckle at the dolled-up effigy of the dictator. The same is true for "The Rhinestone Robo Glam Guy," "The Cat That Got Away" and "Shoes for the Blue Brick Road" -- the three pieces by Campbell that made it into this year's Lawrence Own-Your-Own Art Exhibition and Sale.
She's one of 104 area artists selected by juror Ed Barr, director of the Mulvane Art Museum in Topeka, to be part of the fourth annual show, which opens to the public Saturday at the Wakarusa Corporate Centre.
It features 150 artworks, making it about the same size as last year's show. The difference is that last year's works were created by only 62 artists. The obvious consequence is more diversity this time around.
"There was a lot of variety in terms of the media used and the subject matter of the art," Barr says. "I thought the quality overall was excellent."
Unique format
The Lawrence Own-Your-Own, known more commonly as the LOYO show, sells artwork at retail value but also raises money for Bert Nash Community Mental Health Center.
The show's format distinguishes it from other art-based charity fund-raisers in the area, which typically employ an auction to sell artwork, sometimes for less than its retail value.
"There are several artists who have entered the LOYO show that will not enter other art-based charity fund-raising exhibits because of their principles, because they don't want to devalue their work," says Diana Dunkley, a founding member of the Lawrence Committee for the Advancement of the Visual Arts, which organizes LOYO.
Campbell says she's concerned about the value of her work mostly insofar as it helps clients at Bert Nash. Artists agree to donate 20 percent of their sales to the mental health center.
"I'm all about people getting help, mental help," Campbell says. "I think a lot of people out there that really need it don't use it."
Last year's show generated nearly $6,000 for Bert Nash, Dunkley says. The money helps the agency support programs -- such as a resident aging specialist and the WRAP program in Lawrence public schools -- that typically don't get funding from other sources, says Scott McMichael, community development director for the center.
The fourth annual Lawrence Own-Your-Own Art Exhibition and Sale opens with an invitation-only reception from 6 p.m. to 9:30 p.m. Friday at the Wakarusa Corporate Centre, 4910 Corporate Centre Drive. A public reception will be from 6 p.m. to 9 p.m. Saturday.Juror Ed Barr selected 150 works by 104 area artists for this year's show. The works will be sold at retail value, with artists agreeing to donate 20 percent of their earnings to Bert Nash Community Mental Health Center.Purchase patrons have pledged nearly $9,000 toward artwork they've not yet seen. Last year, patrons who initially pledged more than $7,000 ended up spending more than $14,000 on artwork -- more than half of the $27,000 in total sales.Award winners will be announced at 7 p.m. Saturday. Best of Show receives $500; second place gets $300; and third place gets $100. Barr, who will choose award winners this week, will speak about his selections at 8 p.m. Saturday.People who visit the show while it's on display -- through Oct. 3 -- will be able to cast ballots until 2 p.m. that day for the $250 People's Choice Award, to be presented at the closing public reception, noon to 3 p.m. Oct. 3. Lawrence artist Judi Geer Kellas will give a talk called "Looking at Art" at 2 p.m. A private reception will follow from 3 p.m. to 5 p.m.The Lawrence Art Guild co-sponsors the top four awards. Additionally, local businesses and individuals have donated about $2,100 for 18 merit awards.Viewing hours for the exhibit are 10 a.m.-5:30 p.m. Monday-Wednesday, 10 a.m.-8 p.m. Thursday and 10 a.m.-7 p.m. Friday and Saturday. The Wakarusa Corporate Centre is on the northwest corner of 18th Street and Wakarusa Drive.
The show's connection to Bert Nash also helps reinforce the idea that mental health and creative pursuits are interconnected.
"Creative work is a positive force in the mental health of both individuals and the community," McMichael says. "We use artwork and creative writing in a lot of things we do here at the center."
Doing her own thing
Although the LOYO show has won the allegiance of many longtime Lawrence artists, this will be Campbell's first year in the exhibit. She's one of very few artists on the program to have had three works selected.
The soft-spoken Campbell, who grew up in Topeka but has lived in Lawrence for the past decade, prides herself on being unique.
"A lot of people at bazaars and craft shows, they do the same thing over and over again," she says. "My stuff is never the same, and I like to be original. I don't just pop out something that looks like somebody else's.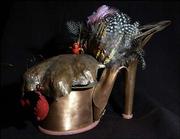 "I like to do my own thing," she adds, giggling.
Campbell's slightly rebellious sentiment is clear in her work. In "Shoes for the Blue Brick Road," she puts a playfully subversive twist on Dorothy Gale's ruby red slippers by adorning a pair of blue-fur lined pumps with hundreds of blue and green beads.
She got so tired of hearing people quote lines from "The Wizard of Oz" whenever she would travel and reveal that she lived in Kansas.
"People get so hooked on an image they can't think of anything else," she says. "I guess my job is to bring something new around."
Which is good news for art patrons like Jane Tedder, a LOYO committee member, who relishes the fresh perspectives she encounters each year at the show.
"That's the fun of it. We'll have 104 artists represented," she says. "I'm going to get exposed to a lot of people's work I probably wouldn't see otherwise."
Copyright 2017 The Lawrence Journal-World. All rights reserved. This material may not be published, broadcast, rewritten or redistributed. We strive to uphold our values for every story published.