The United States Marine Band, perhaps the best ensemble of its kind in the world, will continue a century-old tradition of touring the nation with an Oct. 13 concert at the Lied Center.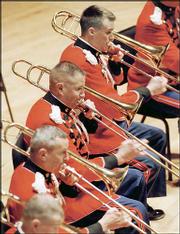 Sponsored by the Journal-World and the Lied Center, the free concert will mark the group's third Lawrence performance since 1989. Both previous appearances were standing room only.
Tickets for the concert, set for 7:30 p.m. Oct. 13 at the Lied Center, are available starting Monday, either by returning the coupon on page 12A of today's Journal-World or visiting the Lied Center box office. No phone orders will be accepted.
Though it spends most of the year performing at the White House, the band first toured the nation in 1891, and has done so annually since 1946. Each fall, nearly 100,000 people in about 45 cities receive visits from the band known as "The President's Own."
Copyright 2018 The Lawrence Journal-World. All rights reserved. This material may not be published, broadcast, rewritten or redistributed. We strive to uphold our values for every story published.