Fort Sill, Okla. — Crackling gunfire, a thunderous explosion from a dummy grenade and curses. The men and women of the Kansas-based 891st Engineer Battalion were having a rough morning.
"I do believe we're dead," Sgt. Jason Lane of Manhattan muttered as green smoke cleared.
Not quite. The attack on Lane's convoy was a simulation, designed to help the soldiers of the 891st learn to stay alive when they ship out later this fall for a yearlong deployment to Iraq.
And Maj. Anthony Velasco, an "observer controller" overseeing the exercise, was on hand to make sure the lesson was learned.
"You should've blasted the (expletive) out of that truck!" Velasco shouted to a gunner at the head of the convoy, referring to an "enemy" SUV that had blocked the narrow country road during the fake attack. "It would've cut that truck in half! And you could've pushed right on through it!"
The battalion's commander, Lt. Col. Lee Tafanelli of Ozawkie, would later say the unit didn't perform so badly, considering it was the first time through the exercise.
By the time the 891st gets to Iraq, though, he expects the soldiers to perform more crisply.
"If you make a mistake here, nobody's dying," Tafanelli said. "If you make a mistake over there, it could be a different outcome."
Full-time part-timers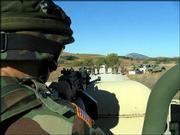 Members of the 891st could be forgiven for seeming a bit rusty. The battalion is a unit in the Kansas Army National Guard; until they mobilized in September, most of the soldiers spent only a weekend a month, and two weekends every summer, training for their military duties.
"Thirty days ago, most of these soldiers had another job. They would come home to their families and children," said Tafanelli, himself a Republican member of the Kansas House of Representatives during his civilian life. "Now they're here on a Sunday afternoon instead of watching NFL games."
That's why the 891st -- nearly 500 soldiers in companies from Coffeyville, Iola and Pittsburg -- is now in the midst of roughly 90 days of intensive training at Fort Sill in southwest Oklahoma, practicing everything from how to drive the trucks and bulldozers used by the battalion to game plans on how to get out of a Humvee on the left if insurgents are firing from the right.
"The instructors who give us this training are all veterans of the Iraqi theater, and all have combat experience in that area," said Maj. Shawn Manley, a Cherryvale native who serves as operations officer for the 891st. "It's basically taking the latest lessons learned on enemy tactics and translating those into training for our soldiers to hopefully help their survivability rate coming back home."
One of the biggest lessons learned: Anything can be a bomb.
"They've used dead animals" as bombs, Tafanelli said of Iraqi insurgents. "They've packed them with explosives and detonated them. It's a hard thing for our soldiers to grasp, that things that may appear to be insignificant may actually be explosives."
Action, after-action
The morning convoy included simulated roadside bombs and driveby attacks by masked terrorists before the final roadblock attack. Soldiers were outfitted with laser sensors to determine whether they were "shot"; their weapons fired realistic-sounding blanks.
Afterwards, battalion members gathered with trainers for an "after-action report" to figure out what went right and wrong in the exercise. They were led in the discussion by two veterans of the Iraq war.
It was an opportunity to correct misimpressions.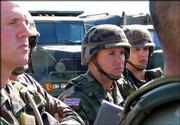 "I saw she had a weapon," said Sgt. James Bishop, of Joplin, Mo., explaining why he didn't fire sooner during the drive-by attack, "but don't they all run around in the backs of trucks with weapons over there?"
"No," said Sgt. Glenn Phinazee, an Iraq veteran serving as a Fort Sill training officer. "They don't."
Phinazee and Capt. Ervin Dennis, another training officer, had warnings for the battalion: Danger is everywhere on a convoy road.
"You're not going to see the wires," Dennis said. "You're not going to see the bombs."
"Most of the time they'll bury them in the ground, bury them in a hole," Phinazee said. "You've got to be wary of potholes."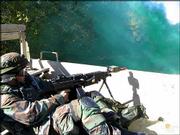 After an hour of discussion, soldiers were told to grab lunch and be prepared to run a convoy exercise again in the afternoon.
"All the mistakes you made this morning," Dennis said, "don't make this afternoon."
Family
The days were long and filled with work; soldiers were up at 4:30 a.m., worked past sunset and generally only got a couple of hours off on the weekend. The outside world became a memory; most of the soldiers and officers last Sunday had no idea of the outcome of the previous night's World Series game.
The Journal-World will check in with the 891st Engineer Battalion throughout its year in Iraq. Last Sunday, Joel Mathis spent the day with battalion members while they trained at Fort Sill, Okla.
Still, there was time for homesickness to set in.
"It's hard leaving family," said Staff Sgt. Rod Moyer, who is principal at Eudora West Elementary in civilian life. "It's the hardest thing I've had to do."
Moyer is a 16-year veteran of the guard. He isn't a member of the 891st, but volunteered to join the unit, which needed a staff sergeant.
That meant he was in Fort Sill this month when his daughter, Kayla, advanced with the Eudora High volleyball team to the state tournament.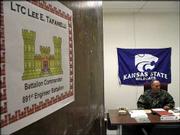 "I got to hear it on the phone," Moyer said. "That's kind of tough."
Tafanelli said he understood the frustration; he's leaving a wife and two young children behind for the year.
"We have a lot to keep our soldiers busy every day, so we don't give a lot of time to think and worry," Tafanelli said. "But for the families it's not that way."
Some other soldiers, however, are bringing family with them -- other soldiers in the unit.
Second Lt. Sean Linn, a Cherryvale native, is joined by a brother and stepbrother in the battalion; Linn's father was once a sergeant in the 891st. Manley's distant cousin, Barry Manley, is another major in the battalion. Such connections, Linn said, are common.
"In the Guard, of course, being basically small-town units, our best recruiting tool is word-of-mouth," Linn said. "A lot of times it becomes a family business. ... Not only blood related, but because we are small-town, Southeast Kansas."
Linn added: "A lot of the people in the battalion I've grown up with, worked with, I've recruited. So we're a pretty tight bunch."
Fort Sill, Okla. -- Lt. Col. Lee Tafanelli, an Ozawkie Republican in the Kansas House, still hasn't decided what to do with his elected seat while he's in Iraq during the next year commanding the 891st Engineering Battalion."I've been too busy with this," he said last week at Fort Sill, where the battalion is in the midst of intensive training for its Iraq mission.Tafanelli is up for re-election in the 47th District, which encompasses Jefferson County and a portion of Atchison County, but faces no opposition.He could keep the seat, leaving House Republicans a hand short during the 2005 legislative session. Or Tafanelli could resign the seat with the understanding that his replacement would give it back after the battalion returns. Or he could resign it outright.
Looking ahead
For security reasons, Tafanelli won't say where in Iraq the 891st is headed. For practical reasons, he can't say when the battalion will leave.
"We have a window or time frame when we're supposed to leave," Tafanelli said. "Truly, it's a logistics thing, when they can get your equipment by sea over there and match the people up to get it at the same time."
The 891st is more equipment-heavy than most battalions. They're carrying bulldozers and other big machinery to help them in their mission of rebuilding civilian infrastructure such as roads and schools, clearing roads of explosive devices, and improving base camps for U.S. soldiers.
The battalion will be joined by members of the 226th Engineering Company, based in Augusta and Winfield, whose members went to Iraq during the initial invasion. That gives the 891st some much-needed experience.
"They know the process and they know what the environment is going to be like," Tafanelli said.
Until the battalion leaves, though, soldiers will train and retrain until the tactics and procedures they need to stay alive become second nature.
Indeed, the afternoon convoy exercise went smoother than the morning. Tafanelli followed behind, listening to the battalion's radio, noting that convoy officers were doing a better job communicating with each other and responding to simulated attacks.
"This is a totally different type of experience, preparing for an overseas deployment in a combat environment. There's a lot of things, a lot of training to be done," Tafanelli said.
"The responsibility, to take that many soldiers and get their mission accomplished and get them back home to their families is taken very seriously."
Copyright 2018 The Lawrence Journal-World. All rights reserved. This material may not be published, broadcast, rewritten or redistributed. We strive to uphold our values for every story published.