It traces the history of East Lawrence from American Indian tribes to the canning industry to Negro League Baseball.
And the Hobbs Park Mural on Municipal Stadium isn't even done yet.
Roughly 75 people gathered Saturday at the corner of 11th and Delaware streets for the formal dedication of the five-panel mural, though finishing touches on the public artwork will take a few weeks to complete.
Janet Good, a member of the Old East Lawrence Neighborhood Assn., told the crowd not to worry, that "all of the characters will have faces -- I promise."
Planning for the mural began in March when the neighborhood association held a series of meetings to generate possible ideas for the project.
David Loewenstein, the artist who has coordinated the design and painting of the mural, said that while there was more neighborhood history than could be depicted in the space, he hoped the final design would capture the community's spirit.
"We knew that it had to be visually interesting and exciting," Loewenstein said. "But it had to be meaningful as well."
About 30 people have worked on the mural since painting began in mid-September.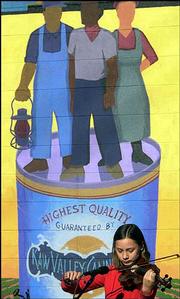 Next year, students in the after-school program at New York School will add additional paintings to the sides of the stadium.
Linda Kucza, the manager of the after-school program, said the mural was a great addition to the community.
"It brings a real pride to the neighborhood, the pride of expressing where it has been, and where it is going," she said. "I think it is going to be great for the kids in the neighborhood and make them more aware of where they live and what has happened here."
Copyright 2018 The Lawrence Journal-World. All rights reserved. This material may not be published, broadcast, rewritten or redistributed. We strive to uphold our values for every story published.