Photographer: Mike Yoder
Camera: D1H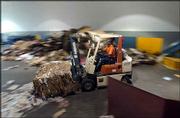 Lens: approximately 28mm
ISO: 800
Shutter: 1/10 second
Aperture: f6.3
One great thing about using digital cameras is the ability to experiment and try different techniques without wasting film. If something doesn't work, you can just delete the file and try again.
On a recent assignment, photographing a worker at the city recycling center, I had covered the employee doing numerous tasks and had photographs that depicted what was required for the story. When the worker began driving a forklift around the center, I decided to try to capture the sense of movement in his job. It was an opportunity to practice a technique that I seldom use.
There are two methods you can use to capture motion in a still image.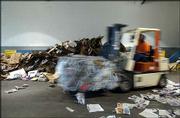 With one method, you focus your camera on a stationary subject, adjust your exposure for a long shutter speed and photograph the image while a second moving subject passes through the frame. In the photo at right, I had selected the bales of cardboard in the background as my subject and took the photograph as the forklift drove into the frame. A slow shutter speed of a tenth of a second blurred the forklift and created a sense of movement. But in this scene you lose the real subject of the photograph.
The second method of capturing motion is to focus your camera on the moving subject and, with the slow shutter speed, make your exposures as you pan with the moving subject. In the first photo above, I focused on the forklift driver and panned with the forklift as it passed in a parallel line in front of me. This method enabled me to retain a clean, still image of the driver while blurring the background and creating the sense of motion.
It's easier to get better results with the second method if you shoot multiple frames in a row as you pan with the subject. It's also helpful to have a subject that moves in a straight line across your field of view so you can more easily keep the subject in the frame as you pan with your camera.
Copyright 2018 The Lawrence Journal-World. All rights reserved. This material may not be published, broadcast, rewritten or redistributed. We strive to uphold our values for every story published.