Welcome to our online chat with U.S. Rep. Dennis Moore, 3rd Congressional District Democrat.
The chat took place at 3 p.m. Monday, Oct. 11, and is now closed, but you can read the full transcript on this page.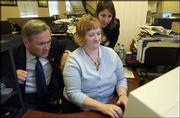 Moderator: Welcome to our chat with U.S. Rep. Dennis Moore. We'll start our chat with him in a few minutes. Thanks for joining us this afternoon.
Mike, Overland Park: What can Congress do to provide seniors on Medicare with affordable prescription drugs?
Dennis Moore: I have filed a bill called MED ACT that would allow the Secretary of Health and Human Services to negotiate lower drug prices with pharmaceutical companies for 40 million Medicare beneficiaries. Large corporations and HMO's get a group discount and so should seniors. We have 177 Republican and Democrat co-sponsors of this bill. It is endorsed by the Kansas Pharmacists Association.
Pete, Lawrence: What is your position on gay marriage?
Dennis Moore: I personally believe that marriage is between a man and a woman. But marriage is an area that has always been regulated by the states. Our constitution has only been amended 27 times in our nation's history and the first ten were the Bill of Rights. I don't think we should resort to amending the Constitution to correct every perceived social problem. The federal government and the state of Kansas both have a Defense of Marriage Act which protects the concerns the proponents have. They are not doing this for valid reasons, but for political reasons.
Mark, Lawrence: Hello, Rep. Moore.
All I seem to hear in this race is "the Republicans need to get this seat back," etc. My question is: Why? I'm told that you're about as "Republican" as a Democrat can be, if that's possible. So why all the fuss?
Dennis Moore: Good question. I try to look at issues on and issue-by-issue basis. If the President is right, I'll support his proposal. When he is wrong, I'll say, "Mr. President, there is a better way". I believe the people in our district want somebody who will do what is best for our country on a nonpartisan basis and not play the partisan card all the time.
Mike, Lawrence: What do you think of the Lawrence City Commission's resolution calling for repeal of portions of the USA Patriot Act?
Dennis Moore: I voted for the Patriot Act about 3 weeks after the Sept. 11 attack on our country, resulting in the deaths of nearly 3,000 people. Some of the provisions are good, and others were put in with sunsets which would expire after 3 years. Some of the provisions are still good, but I think we need to have a discussion about proposals to permanently extend some provisions of the Patriot Act. For example, I'm not convinced the FBI needs authority to check the reading habits of Americans by having access to their library records. I do strongly support the recommendations of the bipartisan 9/11 Commission. If we want to protect our people and our country -- and we should-- we should move immediately to enact the unanimous recommendations of the commission and stop political posturing. We should remember that on Sept. 11, Republican and Democrats didn't matter -- we were all Americans. We are all Americans.
John, Lawrence: Congressman Moore: I heard that you keep a picture of a wounded Iraqi child in your office as a reminder of the cost of war -- is this true? Do you regret your vote in support of the war?
Dennis Moore: It is true that I do keep a picture of a wounded Iraqi child in my office. I had four classified briefings before the President's "Use of Force Resolution" was presented to Congress. I was convinced -- as were a majority of the House members-- that Iraq had weapons of mass destruction and that there was a reasonable likelihood that they would be used against us or other nations in the region. It appears that intelligence was incorrect. Our NATO allies had the same intelligence. While I'm glad Saddam Hussein is gone, I regret the President did not follow the actions he took after Sept. 11 when he assembled a great coalition of nations to fight terrorism. We had more good will coming to our country from the world community than at any other time in history. That good will is almost all gone. If we had followed the same model again it would have appeared to be not just Americans against Iraqis, but the world against Saddam Hussein.
Moderator: This will be our last question for this chat.
Ray, Overland Park: You've talked a lot in your commercials about protecting Social Security, but how can benefits remain at their current levels when the baby boomers begin to retire?
Dennis Moore: The first bill I filed as a new member of Congress in 1999 was to take Social Security "off budget." This would separate SS funds from other tax revenues and establish a real SS trust fund. We need to get good Republicans and Democrats together, after the election and begin a serious discussion about how to address this problem. The unfunded liability for SS and Medicare is more than $50 trillion. This should not be about Republicans or Democrats; this should be about our people and our country. I think it is appropriate tax policy that our government provides incentives for people to save privately in IRA's, 401K's, and employer pension plans. I proposed a bill -- now law-- that increased the allowable contribution and deduction for IRA's from $2,000 to $5,000. We need to consider more measures of this nature.
Thanks for the chance to be with you all today. I need your vote on November 2.
Thank You!
Moderator: Well, that wraps up our chat with U.S. Rep. Dennis Moore. We'd like to thank our readers and Dennis Moore for participating. Our next chat with a congressional candidate will be with U.S. Rep. Jim Ryun, 2nd District Republican incumbent, at 1:30 p.m. Oct. 19.
Copyright 2018 The Lawrence Journal-World. All rights reserved. This material may not be published, broadcast, rewritten or redistributed. We strive to uphold our values for every story published.