Roadways around Overlook Park near Clinton Lake Sunday afternoon swarmed with runners and walkers, but they weren't out just for their own health.
More than 200 individuals and family members participated in the second annual Run For Success and Family Fun Festival, a benefit for a variety of Douglas County child and family support programs.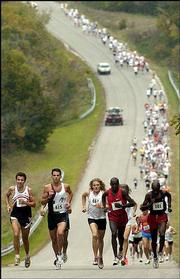 "The turnout has just been wonderful," said Rich Minder, the coordinator of the event. "It's been beautiful this year."
The event included a 4K run followed by a 1 mile Family Fun run or walk. Participants' entry fees will go to the Success by 6 Coalition, which aims to improve education by providing services for parents and pre-school-age children.
Among the runners were David and Cathy Slade, Lawrence. They recalled stormy weather during last year's run.
"This year has been nice," Cathy Slade said. "I didn't do that well. My hip started hurting, but it's for a good cause."
David Slade got a late start in the run because he was part of the afternoon's entertainment. He plays in a Bluegrass band known as Down the Road.
"We're happy to come out here and run," he said.
At least one runner from New York participated after finding out about it while visiting Lawrence for a class reunion, and another came from Florida just to participate, Minder said.
The two top winners in the 4K were two brothers from Kenya who are graduate students at Kansas State University.
"I found out about it last year and told him," said Shadrack Kimeli, who ran in the event for the second time, while his brother, Silverus Kimeli, was running in it for the first time.
Last year's Run For Success raised about $6,000, Minder said. He hoped at least that much could be raised this year. It will be a week before the total is known, he said.
Copyright 2018 The Lawrence Journal-World. All rights reserved. This material may not be published, broadcast, rewritten or redistributed. We strive to uphold our values for every story published.