Diane Arbus did not take pretty pictures.
She became famous for her haunting black-and-white portraits of people who lived on the margins of society: dwarves, nudists, transvestites. But in 1968, she wrote to a friend that she was compiling her photographs into a "family album" of the tumultuous 1960s. Her never-completed project -- she committed suicide in 1971 -- is re-examined in "Diane Arbus: Family Albums," a traveling exhibition of Arbus' works that opens Saturday at the Spencer Museum of Art.
"Her comment about family albums in 1968 was the springboard for our project," said Kansas University associate art history professor John Pultz, who co-curated the exhibit. "What we've tried to do is get away from the freaks and make a bigger picture of Arbus. When things are weird in her photographs, it's not about herself but about the historical moment she was in."
Pultz developed the exhibition and a companion book with Anthony Lee, associate professor of art history at Mount Holyoke College. The Spencer's Arbus holdings consist mostly of work she published in Esquire magazine, mainly depicting children, couples, mothers and fathers as well as various people that Arbus grouped together as surrogate families.
The Mount Holyoke contribution to the exhibit is the result of a gift from Gay Matthaei, a Mount Holyoke alumna, of a large collection of family portraits taken by Arbus in 1969.
"We realized right away it was unknown work by Arbus," Lee said. "As we began to look at many of the contact sheets, the thing that was consistent -- almost obsessive -- was her interest in family. It was not incidental or happenstance, but integral to how she thought about photography."
The exhibition includes the 1971 portraits Arbus made for Esquire of the television family Ozzie and Harriet Nelson, a 1965 series of teenagers and their parents, and contact sheets and two gelatin silver prints of her 1964 session photographing Marguerite Oswald, mother of alleged John F. Kennedy assassin Lee Harvey Oswald. The show also includes prints and contact sheets from two days in 1969 when Arbus photographed a Matthaei family reunion.
"We're saying that the pictures are rooted in that moment in history," Pultz said. "There had been a tremendous change in the American family from 1960 to 1970, and Arbus is a spectator of that. They conjure up the uneasiness of American culture during that war period and hint at there being a problem somewhere in the American psyche."
Arbus, who was twice a Guggenheim fellow and the first American photographer to be included in the Venice Biennale, left her mark on her craft. Her style -- honest, unflattering portraits of ordinary people -- became characteristic of modern American photography.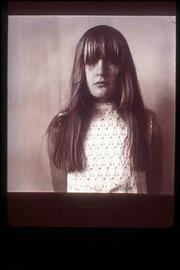 American photographer Tina Barney, who will speak at the Spencer during the exhibition's run, uses Arbus' idea of a photographer being a kind of anthropologist of the close at hand, Pultz said.
Kansas University photography professor Pok-Chi Lau said he was influenced in the early 1970s by the intensity of Arbus. Lau, who will speak Nov. 5 as part of a faculty colloquium about Arbus, began photographing Chinatowns across America, into Vancouver and down to Mexico using Arbus' work as a guide to look beneath the surface.
"She is important because she cared about the people in the margins, the rejects of society," Lau said. "Somehow I think that it strikes a different chord in people's hearts when that is done."
What: "Diane Arbus: Family Albums"When: Saturday through Jan. 16Where: Kress Gallery, Spencer Museum of Art, 1301 Miss.Hours: 10 a.m.-5 p.m. Tuesday-Wednesday, Friday-Saturday; 10 a.m.-9 p.m. Thursday; and noon-5 p.m. SundayInfo: 864-4710
Photo gallery: "Diane Arbus: Family Albums"
Lectures, exhibit tours and screenings of popular films that complement Arbus' style are scheduled throughout the exhibit, which will remain on view through Jan. 16. The companion book, "Diane Arbus: Family Albums," is available in the gift shop at the Spencer Museum of Art.
"Arbus is one of a double handful of important American photographers of the 20th century. The exhibit is important because she's important," Pultz said. "If you're interested in photography, you're interested in her."
Tours, lectures, film screenings and a faculty colloquium have been scheduled in conjunction with "Diane Arbus: Family Albums," an exhibition of the late photographer's work that will be on view Saturday through Jan. 16.Here's a look at the lineup:¢ Video: "Going Where I've Never Been: Photography of Diane Arbus," shown continuously in the Kress Gallery¢ Lecture: Photographer Tina Barney speaks about Arbus' influence on her family photography, 7 p.m. Oct. 21, auditorium, Spencer Museum of Art¢ Film: "The Royal Tenenbaums" (2001, 109 minutes, R), 7 p.m. Oct. 28, Spencer auditorium¢ Lecture: Exhibition co-curator John Pultz, 7 p.m. Oct. 29, KU Edwards Campus, Overland Park¢ Tour du Jour: Exhibition co-curator John Pultz, 12:15 p.m. Nov. 4, Kress Gallery, Spencer Museum¢ Film: "The Ice Storm" (1997, 112 minutes, R), 7 p.m. Nov. 4, Spencer auditorium¢ Faculty colloquium: "Family, Politics and Photography of the 1960s," 10 a.m.-12:30 p.m. Nov. 5, pre-registration requested¢ Lecture: Trudy Wilner Stack on "Fear and Loving: Arbus and Winogrand's New America," 5:30 p.m. Nov. 11, Spencer auditorium¢ Lecture and gallery talk: Exhibition co-curator and Mount Holyoke College associate professor Anthony Lee on "Arbus, Fashion and the Grotesque," 7 p.m. Nov. 18, Spencer auditorium. A walk through the exhibition with co-curator John Pultz will follow the lecture.¢ Children's Art Appreciation Class: "Family Photo Albums," 10:30 a.m. and 1:30 p.m. Dec. 4, pre-registration required. Contact Karen Gerety at 864-0137 or kcgerety@ku.edu.¢ Film: "Ordinary People" (1980, 124 minutes, R), 7 p.m. Dec. 9, Spencer auditorium
Copyright 2018 The Lawrence Journal-World. All rights reserved. This material may not be published, broadcast, rewritten or redistributed. We strive to uphold our values for every story published.