Vandals armed with spray paint struck at the Douglas County Democratic Headquarters over the weekend.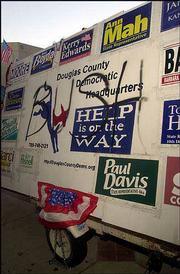 The name "Bush" was sprayed in large letters on the north-facing front window of the office and also on a side window, along with an expletive. A signboard on a trailer in front of the office had "Bush" sprayed on one side.
Democrats opened their headquarters in August in the I-70 Business Center, 1025 N. Third St.
The vandalism was discovered Sunday morning by Democratic Party volunteers.
The paint was scraped off the windows, but the side of the trailer will have to be repainted, said Marilyn Greathouse, Douglas County's Democratic Party chairwoman.
"We have no idea who did it or what their motivation might have been," she said.
A police report was filed.
Copyright 2018 The Lawrence Journal-World. All rights reserved. This material may not be published, broadcast, rewritten or redistributed. We strive to uphold our values for every story published.