Group touts importance of walk-to-school safety
A state organization is encouraging parents to teach children about pedestrian safety by participating in International Walk Your Child To School Day on Wednesday.
Sponsored by Kansas Safe Kids Inc., the event also asks parents to raise community awareness about the difficulties and dangers children may deal with while walking to school.
"Children need to learn how to walk to school safely, and parents need to teach and review important safety guidelines with their children," said Jan Stegelman of the Kansas Safe Kids Coalition.
Additional information for parents is available at www.safekids.org and www.walktoschool.org.
Kansas Safe Kids is a nonprofit coalition of 67 organizations and businesses dedicated to preventing unintentional injuries Kansas children from birth to age 14.
Downsizing
Topeka nonprofit cuts 100 jobs
Topeka -- About 100 workers at Breakthrough House, a nonprofit serving the mentally ill, have been laid off, the center announced.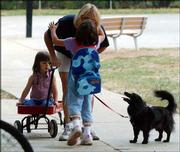 About 10 to 15 of the workers are full-time employees. All the jobs were cut after Valeo Behavioral Health Care chose not to renew an agreement with Breakthrough to treat its clients.
Valeo officials indicated they lacked confidence in Breakthrough House's Medicaid billing, according to Michael P. Horan, Breakthrough's executive director.
Some of the terminated employees have been hired by Valeo, Horan said.
Breakthrough House has been in operation for 26 years. It now has around 40 employees.
Construction
County to consider Stull Road repaving
A popular commuter route between Lawrence and Topeka is in line for a fresh coat of pavement.
A mile-long section of Stull Road, stretching from East 318 Road to just west of Stull, would be resurfaced in the coming weeks under a plan up for approval today by Douglas County commissioners.
The county would hire Killough Construction, of Ottawa, to handle the work, which would start sometime between Oct. 11 and Nov. 1. The $152,219 project would take 10 working days.
The road, which carries 2,800 vehicles a day, would remain open during the project, said Keith Browning, the county's engineer and director of public works.
Also today, commissioners are scheduled to approve a list of major construction projects and consider a request to add a driveway on County Road 1-E, northeast of Lone Star Lake.
The meeting is planned for 8:30 a.m. at the County Courthouse, 1100 Mass.
Copyright 2018 The Lawrence Journal-World. All rights reserved. This material may not be published, broadcast, rewritten or redistributed. We strive to uphold our values for every story published.