The holidays are here, so I thought I would answer a few common questions asked when people are considering buying a digital camera.
What is a megapixel and how many do I need for a good photograph?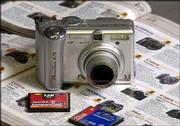 Before we get mega-confused, let me say I barely know the difference between a megapixel and a megabyte, even though I take photos for a living. The important thing to remember is that generally the bigger the megapixel rating, the better the quality of the image. It's a lot like an Olympic judges' scoring system. Two megapixels won't even get you a bronze medal. You're close to silver with 3.2 and 5 megapixels, and 6 and above could have you wearing gold.
But depending on what you want to use your photographs for, you may not need the larger megapixels. If you plan to take photos only for Web pages or to e-mail to family and friends, a 2-megapixel camera may be fine. If you want at least the quality to make 4-by-6-inch prints that look like traditional film prints, you can easily get by with a 3.2-megapixel camera. For making 8-by-10-inch prints, you would be wise to get something no smaller than 5 megapixels.
Digital cameras that reach past 7 megapixels are capable of producing excellent prints up to 11 by 14 inches and larger. Currently the general range of consumer point-and-shoot digital cameras goes from 2-megapixel cameras for as cheap as $100 to 8-megapixel models at around $1,000.
Q: Which brand is best?
A: Most brands are pretty similar in terms of features, quality and cost. I recommend visiting a store and doing a hands-on tryout of a few models. To prepare yourself for the store visit, you might want to check out the excellent Web site www.steves-digicams.com, where you can read reviews and comparisons of dozens of digital cameras.
Q: What is a memory card?
A: Digital memory cards are a lot like film. They store the images in computer bytes until the information is downloaded to a computer or to a printing device. Cards are listed in size by their megabyte capacity. The bigger the card, the more images you can capture. Most cameras come with a fairly small sized card (32 or 64 megabytes), so the purchase of any new digital camera probably will require a larger card. I would recommend nothing smaller than a 128 megabyte card. And with prices as low as they are these days, I would opt for a 256 megabyte card.
Keep in mind that the larger your camera's megapixel capacity, the quicker your memory card will fill up because each image takes up a larger amount of space. The confusing part of memory cards is the variety of cards available. Each camera seems to take a different type of card. Compact Flash, Smart Media, Memory Stick and Microdrive are just a few of the options. Don't let the different cards confuse you. They vary in physical size, but they all do the same thing. Megabyte size does matter.
Happy shopping.
In my next "Behind the Lens," I'll write about how to access your images for viewing and printing.
Copyright 2018 The Lawrence Journal-World. All rights reserved. This material may not be published, broadcast, rewritten or redistributed. We strive to uphold our values for every story published.