New York — Shock jock Howard Stern, surrounded by strippers and cheered by thousands of fans, began promoting his switch to satellite radio Thursday at a Manhattan rally where he handed out free boom boxes and satellite subscriptions.
"Down with the FCC!" Stern told a legion of sign-waving backers gathered at Union Square. "They have ruined commercial broadcasting."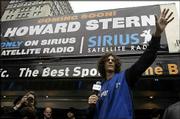 The fans agreed, screaming "Howard rules!" as their hero addressed the overflow crowd. Stern supporters spilled into the streets surrounding Union Square, stopping noon traffic throughout the neighborhood.
"Most people think it, but don't say it," said Stern fan Peter Frankel, 50, president of a Long Island janitorial company, as he walked off with a free Sirius boom box. "Howard Stern says it. It's healthy for society."
Stern will be able to say anything he wants once he starts at Sirius Satellite Radio, which is free of Federal Communications Commission restrictions. Stern has battled for years with the FCC over the content of his salacious show.
Copyright 2018 The Lawrence Journal-World. All rights reserved. This material may not be published, broadcast, rewritten or redistributed. We strive to uphold our values for every story published.