Baghdad, Iraq — While U.S. troops drove deeper Friday into insurgent strongholds in southern Fallujah, rebel violence raged across the rest of Iraq. Clashes erupted in several Iraqi cities and insurgents shot down a U.S. Black Hawk helicopter outside Baghdad.
In Mosul, Iraq, where earlier this week militants overran police stations and roamed freely, a firefight broke out Friday between insurgents and guards for a major Kurdish political party. The gunmen killed a senior police officer. Six insurgents were killed, officials said.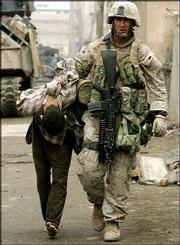 In Baghdad, insurgents ambushed a U.S. military patrol just before 1 p.m., unleashing a volley of rocket-propelled grenades, gunfire and homemade bombs that killed one U.S. soldier and wounded two others, the U.S. military said.
A few hours later, insurgents shot down a Black Hawk helicopter near Taji, Iraq, 12 miles north of Baghdad, the U.S. military said. Three members of the four-man crew were injured. The downing of the U.S. helicopter was the third this week.
Insurgent attacks and clashes with Iraqi security forces also broke out in Samarra, Hillah, Kirkuk, Hawija and Baghdad's Adhamiyah neighborhood.
The violence was a grim reminder of how mobile and elusive Iraq's 18-month-old insurgency has become. U.S. military leaders have acknowledged that, despite the massive firepower and troop strength devoted to the all-out assault in Fallujah, many insurgents probably escaped well before the offensive began.
Also believed to have escaped is the most wanted of those insurgents, Jordanian militant Abu Musab al-Zarqawi, who is suspected of masterminding many ambushes plaguing postwar Iraq. On Friday, the Arab television network Al-Jazeera broadcast an audiotape purported to be al-Zarqawi urging Iraqis to join the fight against U.S.-led forces in Fallujah.
Fresno, Calif. (ap) -- Childhood friends who enlisted in the Marine Corps together and died together in Iraq were buried side by side.Jeremiah Baro and Jared Hubbard, who played together, wrestled each other in high school and toughed it out together through boot camp, died Nov. 4, after a roadside bomb exploded. They were in Iraq's Anbar province, where the military was preparing to attack the insurgent stronghold of Fallujah.Hubbard, 22, and Baro, 21, enlisted in December 2001, acting on an idea they'd had since high school, but motivated by the terrorist attacks that September.
Copyright 2018 The Lawrence Journal-World. All rights reserved. This material may not be published, broadcast, rewritten or redistributed. We strive to uphold our values for every story published.