Nashville, Tenn. — Tim McGraw's "Live Like You Were Dying" won song of the year and single of the year, and Kenny Chesney took entertainer of the year and album of the year honors at the Country Music Assn. awards Tuesday night.
"Of course the song is special to me, but I think it is special to a lot of people," McGraw said. "The song to me is not about death, it's an affirmation about life."
Chesney, whose album "When the Sun Goes Down" took top honors, noted that he's "been making records and been on the road 12 years now, and this is my first CMA award. ... I'm very proud of it."
Other winners included Keith Urban, Gretchen Wilson, Brad Paisley, Martina McBride and Rascal Flatts.
Written by Tim Nichols and Craig Wiseman, "Live Like You Were Dying" spent eight weeks this summer at No. 1.
The song, about living life to its fullest, was special for McGraw, who lost his father, former New York Mets and Philadelphia Phillies relief pitcher Tug McGraw, to cancer in January.
The lyrics tell of a man in his early 40s who learned he doesn't have long to live and is asked how he handled the news. McGraw sings, "Someday I hope you get the chance to live like you were dying."
It was chosen for song of the year over Wilson's "Redneck Woman," Josh Turner's "Long Black Train," Alan Jackson's "Remember When" and the Paisley-Alison Krauss duet "Whiskey Lullaby."
"Whiskey Lullaby," written by Bill Anderson and Jon Randall, won for musical event of the year and music video of the year. It's a dark tale about a woman who breaks a man's heart, watches him drink himself to death and then is so guilt-stricken that she too -- as the songs says -- "put that bottle to her head and pulled the trigger."
"I want to thank country radio for playing this," Paisley said. "It says a lot about the great people in our format who will take a chance on a double suicide in a drinking song."
In one of the evening's surprises, Urban won the male vocalist award. The rising star was up against veterans Jackson, George Strait, Toby Keith and Chesney.
Keith had six nominations for the Country Music Assn. awards, but was shut out for the second straight year. "I have the worst record in the history of the CMA," he said recently.
Jackson, who led all nominees for the ceremony with seven, also left empty-handed.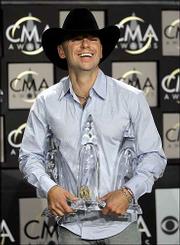 Wilson, who has sold 3 million copies of her debut album, "Here For the Party," won the Horizon Award for best new artist. She fought back tears as she accepted.
"I came here last year and sat way back there in the very back and dreamed of standing up here someday. I just had no idea it would happen this fast for me," she said.
Singer-songwriter Kris Kristofferson was inducted into the Country Hall of Fame. His friend Willie Nelson introduced him and sang Kristofferson's "For the Good Times." Faith Hill performed his "Help Me Make It Through the Night," and Randy Travis did "Sunday Morning Coming Down."
Kristofferson, who has been outspoken during his career on political and social issues, sang "Me and Bobby McGee," a song made famous by Janis Joplin.
He thanked the late Johnny and June Cash "for endorsing me back when nobody knew me and defending me later when everybody did and for standing up for truth and justice and human rights."
Musician: Dann Huff, guitarMusic Video: "Whiskey Lullaby," Brad Paisley and Alison Krauss, directed by Rick SchroderSong: "Live Like You Were Dying," Tim Nichols and Craig WisemanMusical Event: Brad Paisley featuring Alison Krauss, "Whiskey Lullaby"Single: "Live Like You Were Dying," Tim McGraw, produced by Byron Gallimore, Tim McGraw and Darran SmithVocal Duo: Brooks & DunnAlbum: "When the Sun Goes Down," Kenny Chesney, produced by Buddy Cannon and Kenny ChesneyFemale Vocalist: Martina McBrideMale Vocalist: Keith UrbanHorizon Award: Gretchen WilsonVocal Group: Rascal FlattsEntertainer: Kenny Chesney
Copyright 2018 The Associated Press. All rights reserved. This material may not be published, broadcast, rewritten or redistributed. We strive to uphold our values for every story published.