Lawrence Police arrested nine war protesters in front of Douglas County Bank, 300 W. Ninth, about 2:15 p.m. Saturday after the protesters failed to heed police warnings to get out of the street.
Sgt. Mark Warren confirmed that the police had arrested the protesters for failing to comply with officers' instructions and for interfering with traffic. Warren said the protesters also had failed to notify the chief of police of their intent to hold such a demonstration on the streets, which made the gathering unlawful.
The group of approximately 25 started the demonstration against U.S. military involvement in Fallujah, Iraq, at South Park and marched north up Massachusetts Street. They did not meet police interference until they turned onto Ninth Street, where they marched in the right lane, leaving the left lane open for traffic.
Patrick Tyler, one of the marchers, said a single police car came up behind the protesters once they had turned onto Ninth and instructed them over the car's bullhorn to move off of the street. By the time the group had reached Kentucky Street, several more squad cars had arrived on the scene, and police began making arrests.
Warren said the protesters had been given several opportunities to comply with the requests of the police before being arrested.
"They told them to get up on the sidewalk," he said. "They told them as a group, and they told them individually before they were arrested."
One of the protesters, Chris Tucker, also was charged with interfering with the duties of an officer after he reached out for Kat Randolph when police took her into custody.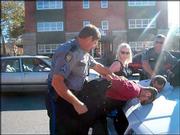 A total of 11 squad cars came to the scene of the protest, and a van was brought to transport the arrested to Douglas County Jail.
The remaining protesters set up camp on the front lawn of the jail at 5 p.m. as they waited for each of the arrested to be processed. Eight of the protesters were released on $35 dollars bail each. Tucker, the final protester to get out of jail, was released on $135 bail about 9:30 p.m.
Copyright 2018 The Lawrence Journal-World. All rights reserved. This material may not be published, broadcast, rewritten or redistributed. We strive to uphold our values for every story published.