Near Fallujah, Iraq — For U.S. Marines awaiting orders to attack Iraq's rebel-held Fallujah, the bags are packed, trucks are loaded and letters have been sent home, leaving one final, pre-assault diversion: the "Ben-Hur."
Blowing off steam, hundreds of Marines took their cue from the 1959 Charlton Heston classic and gathered Saturday at a base near Fallujah for a slapstick chariot race featuring cobbled-together carts and confiscated Iraqi horses.
"These men are about to face the greatest personal and professional tests of their lifetimes," said Lt. Col. Willy Buhl, commander of 3rd Battalion, 1st Marines.
"We wanted to lighten things up, take the tension off what we're about to do," said the 42-year-old commander from Los Gatos, Calif., who dreamed up the "First Annual 'Ben-Hur' Memorial Chariot Race."
The Marine charioteers, wearing togas over their body armor, waved baseball bats done up as spiked maces and jumped into carts forged from cast-off vehicle parts. The makeshift chariots were pulled by Iraqi horses commandeered from looters in the area.
Some 10,000 U.S. troops have encircled Fallujah, a city 40 miles west of Baghdad, to attack Sunni Muslim fighters there -- if the final go-ahead is given by Iraq's interim Prime Minister Ayad Allawi.
By capturing the insurgent sanctuary, U.S. and Iraqi government forces hope to restore enough order nationwide to enable the country to hold a general election by the end of January.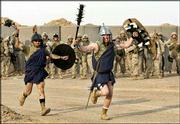 But first, the Marines had a little fun with the horses.
"Friends, Romans, Marines: Lend me your ears for the rules," bellowed the master of ceremonies, Capt. Jonathan Vaughn, 30, of Cleveland. "If all horses die before the finish line, whichever makes it the farthest, wins."
Vaughn's rule seemed prudent since some of the horses didn't look in prime racing shape, although none died.
A weapons team duo eventually prevailed in the final heat. The horse ran straight over the finish line, scattering Marine bystanders and slamming snout-first into sand-filled barriers. The horse was unhurt.
Copyright 2018 The Associated Press. All rights reserved. This material may not be published, broadcast, rewritten or redistributed. We strive to uphold our values for every story published.