Maggie Hill waited in line for nearly 10 hours to vote for John Kerry. She skipped field hockey practice and ate pizza and cookies delivered to hungry students by their professors.
"You gotta stay with it," Hill and her classmates at Kenyon College told one another, as hundreds of them sprawled in the community center in Gambier, Ohio, playing board games, chatting and waiting for one of only two voting booths.
While few young voters had such a tough time at the polls Tuesday, more than 20 million Americans under 30 took the initiative to vote -- resulting in a 51.6 percent turnout for that age group, according to the Center for Information & Research on Civic Learning & Engagement at the University of Maryland.
CIRCLE researchers based their calculations on exit polls done for The Associated Press and others by Edison Media Research and Mitofsky International, and found that 18- to 29-year-old turnout was up by 4.6 million voters and more than 9 percentage points from exit poll data from the 2000 election.
The figures also beat exit poll numbers from 1992, the last time the youth vote spiked amid an otherwise general decline in turnout since 18-year-olds first got the chance to vote in 1972.
Turnout increased among other age groups, too, leaving young voters with roughly the same proportion of the total electorate nationally as in 2000. But activists who were part of an unprecedented effort to get out the vote -- from Rock the Vote and Declare Yourself to the Youth Vote Coalition -- felt that didn't detract from their accomplishment.
"To have beaten the '92 number is incredible," said Ivan Frishberg of the nonpartisan New Voters Project. Back then, Bill Clinton defeated the first President Bush.
This time, young voters were the only group that favored Democrat Kerry. The AP's exit polls found that under-30s favored Kerry over Bush, 55 percent to 44 percent, compared to a 48-46 edge for Al Gore in 2000.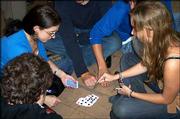 While exit poll data provides an early look at young voters, more detailed and definitive information about the youth vote -- provided by the Census Bureau -- will be available next year, said Carrie Donovan, the youth director at CIRCLE.
Still, experts who track the youth vote say that the initial data shows politicians should take young voters more seriously.
"I think at the end of the day, if you're looking for new voters, young voters will emerge as the best bang for the buck," Frishberg said.
Topeka (ap) -- A record number of Kansans might have cast ballots in this year's general election, but turnout still wasn't as high as predicted, Secretary of State Ron Thornburgh said Thursday.The Secretary of State's Office said 1,154,040 ballots were cast in final, unofficial results from Tuesday's elections. However, counties have at least 36,000 provisional ballots to review, Thornburgh said.That means this year's turnout still could top the 1992 record of 1,161,927 voters. The figure cited Thursday by Thornburgh's office was only 7,887 short of the record.However, Thornburgh had predicted that nearly 1.29 million voters would go to the polls, or 76 percent of the 1.69 million registered. Actual turnout was about 68 percent.
Copyright 2018 The Associated Press. All rights reserved. This material may not be published, broadcast, rewritten or redistributed. We strive to uphold our values for every story published.