Near Fallujah, Iraq — The number of dead and wounded from the expected battle to retake insurgent-controlled Fallujah probably will reach levels not seen since Vietnam, a senior surgeon at the Marine camp outside Fallujah said Thursday.
Navy Cmdr. Lach Noyes said the hospital here was preparing to handle 25 severely injured soldiers a day, not counting walking wounded and the dead. The hospital has added two operating rooms, doubled its supplies, added a mortuary and stocked up on blood reserves. Doctors have set up a system of ambulance vehicles that will rush to the camp's gate to receive the dead and wounded so units can return to battle quickly.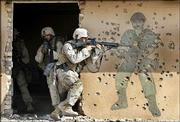 The plans underscore the ferocity of the fight the U.S. military expects in Fallujah, a Sunni Muslim city about 35 miles west of Baghdad which has been under insurgent control since April. More than 1,120 U.S. soldiers and Marines have died in Iraq since the war began, more than 860 of those from hostile fire.
The deadliest month was April when fierce fighting killed 126 U.S. troops largely at Fallujah and Ramadi before a cease-fire virtually turned Fallujah over to the insurgents. Even then, the death toll was far below the worst month of Vietnam, April 1969, when the U.S. death toll was 543 at the height of American involvement there.
U.S. forces have been building up outside Fallujah for weeks in preparation for taking the city back, and many here believe the assault is likely to come soon.
Military officials say they expect U.S. troops will encounter not just fighters wielding AK-47s assault rifles and rocket-propelled grenades, but also heavy concentrations of mines, roadside bombs and car bombs.
"We'll probably just see those in a lot better concentration in the city," said Maj. Jim West, an intelligence officer with 1st Marine Expeditionary Force.
West said he thought there were 4,000 to 5,000 fighters between Fallujah and nearby Ramadi, and they may try to draw troops into cramped urban areas in Fallujah that have been booby-trapped.
Baghdad, Iraq (ap) -- Insurgents attacked British troops at a checkpoint in central Iraq on Thursday, killing three and wounding eight in a suicide bomb and mortar barrage aimed at soldiers sent to the high-risk area to free U.S. forces for an assault on the militant stronghold Fallujah.U.S. troops pounded Fallujah with airstrikes and artillery fire, softening up militants ahead of the expected assault. Loudspeakers at Fallujah mosques blared out Quranic verses and shouts of "Allahu akbar," or "God is great," during the assault, residents said.The three British soldiers were from the Black Watch regiment, which was moved last month from relatively quiet southern Iraq to the dangerous area just south of Baghdad.An Iraqi interpreter also was killed in the attack, British officials said. Britain's armed forces minister, Adam Ingram, said in London that the attack was carried out by a suicide bomber in a vehicle and that the British checkpoint also came under mortar fire.The deaths bring the number of British troops killed in Iraq to 73. It was the worst single combat loss for the British since three Royal Military Police were killed in the southern city of Basra in August 2003.
Copyright 2018 The Lawrence Journal-World. All rights reserved. This material may not be published, broadcast, rewritten or redistributed. We strive to uphold our values for every story published.