Area residents today and Saturday can help bring a Lawrence landmark back to life.
Officials with the group seeking to preserve and reopen the Castle Tea Room, 1307 Mass., are conducting an estate sale of items used by its former owner, the late Libuse "Libby" Kriz-Fiorito.
Proceeds from the sale -- which will feature everything from dishes, rugs and knickknacks to pieces of art and furniture -- will be used to help preserve the building and eventually reopen it as a venue for wedding receptions and other special events.
The property, which is on the National Register of Historic Places, was used as a tea room-style restaurant from 1947 until Kriz-Fiorito's death in February. Finding a way to keep the building open to the public was among the specific instructions Kriz-Fiorito left before her death, said James Dillon, a Lawrence accountant who is chairman of the Libuse Kriz-Fiorito Historical Foundation.
"She always believed that just preserving a building wasn't enough," Dillon said. "She realized that it has a whole lot more value if it can be used by the community. It shouldn't just be a neat old building that people drive by but have no idea what's inside."
The historical foundation now owns the building, built in 1894 by John N. Roberts, a retired Civil War general and industrialist. Dillon said the foundation hoped to reopen the building to the public as soon as possible, but said no specific timeline had been set.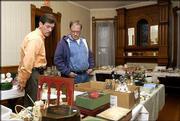 "Our first job is to preserve the historical integrity of the building, and that is going to be a big job," Dillon said.
Dillon said the foundation would hire architects and contractors to inspect the building's soundness and determine whether its mechanical and electrical systems need to be replaced.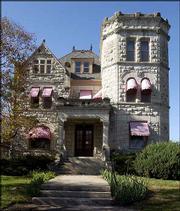 The sale won't include all the castle's furnishings. Instead, sale organizers are offering items that don't fit the building's historical motif.
"It is mainly things that don't fit with the Victorian era that will be on sale," said John Hughes, who is managing the estate sale. "The foundation has saved the most valuable items for future use in the castle."
The items the foundation has kept are meant to add to the building's uniqueness once it reopens as a reception hall. The three-story building includes a ballroom and features ornate hand-carved fireplaces and detailed trim made from six varieties of hardwood.
"We're anticipating a very strong demand once we reopen," Dillon said. "Already we have been getting phone calls from people all over the U.S. They tell us that they had their wedding here and they want to have their 50th wedding anniversary here."
Items from the Castle Tea Room will be on sale from 1 p.m. to 7 p.m. today and 8 a.m. to 4 p.m. Saturday at the castle, 1307 Mass.
Suzanne Dillon, a friend of Kriz-Fiorito who has helped maintain the property, said the continuing interest in the house would please her friend.
"Libby was just such a giving person," Suzanne Dillon said. "She wanted to make sure even after her death that she was giving back to the community. We just want to help her make sure people can enjoy this building for another 100 years."
Copyright 2018 The Lawrence Journal-World. All rights reserved. This material may not be published, broadcast, rewritten or redistributed. We strive to uphold our values for every story published.