Rob Lowe, who flopped last season in a freshman NBC drama, lost another bet Tuesday as his new series, "dr. vegas," was yanked by CBS.
And another show set in Las Vegas, NBC's "Father of the Pride," was caged for the November sweeps.
Calling the sudden disappearance a "hiatus," CBS announced that a repeat episode of its hit drama "Without a Trace" would air this week in the slot (9 p.m. Friday) followed the rest of November by reruns of "Cold Case," "CSI: Miami" and "CSI."
There was no mention of a future return by "dr. vegas," which ranked 58th last week in audience with 7.3 million viewers -- losing 2.1 million viewers from its lead-in, "JAG."
It was Lowe's third series in as many years. After leaving NBC's "The West Wing" in 2003, he returned in the fall to head up a legal drama, "The Lyon's Den," which was canceled midseason.
On "dr. vegas" he starred as Dr. Billy Grant, the in-house physician at a posh Las Vegas casino who had a rollicking after-hours lifestyle. Lowe's co-star on the drama was Joe Pantoliano, himself on the rebound from last season's failed CBS crime show, "The Handler."
"dr. vegas" wasn't the only series to have seized on Las Vegas as a storytelling site. "CSI" has made hay with crime procedurals set amid Vegas' glitz and decay, while NBC's "Las Vegas" dwells in its own glamorous casino-resort, the Montecito.
In an interview with The Associated Press when "dr. vegas" premiered in September, Lowe contrasted his new series with his more sober-minded past efforts.
"I thought it would be fun to try a show that had a higher element of devil-may-care entertainment," Lowe said. "This is not HBO, not groundbreaking. That's not what I'm trying to do. ... 'dr. vegas' is a guilty pleasure without the guilt -- let's hope."
Wounded 'Pride'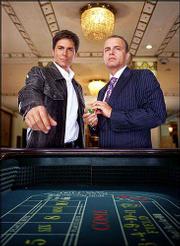 With the ratings in a tailspin, NBC said Tuesday that it would shelve -- at least through November sweeps -- the pricey DreamWorks Animation SKG comedy about a family of lions in Siegfried & Roy's Las Vegas act.
NBC said "Pride" would return in December, but pulling a show during sweeps usually foreshadows cancellation because the critical ratings period helps set TV station ad rates.
"Whenever a network lacks confidence in a show's performance, they sweep it under the rug during sweeps," said Shari Anne Brill, programming director for the ad-buying firm Carat USA.
Indeed, NBC executives privately predicted "Pride" would likely be put to sleep after its six remaining episodes.
The end of "Pride" would be another disappointment for the peacock network, which has been relegated to third place after years as a ratings juggernaut. The first TV show to tap DreamWorks' computer animation wizardry, "Pride" was one of this fall's most heavily promoted and expensive shows, which the General Electric Co.-owned network acknowledged cost $1.6 million per half-hour episode. It started strong in late August, but has since lost 48 percent of its 18- to 49-year old audience, the group that advertisers pay the most to reach. Last week, against Game 3 of the World Series, the show attracted just 6.6 million viewers, fourth in its 9 p.m. Tuesday time slot.
The show's uncertain future also dampens the euphoria surrounding DreamWorks Animation's Wall Street debut. For DreamWorks, NBC's move is more likely to wound egos than the studio's balance sheet. Although high profile, NBC picked up nearly all of the tab for the show, the brainchild of Jeffrey Katzenberg. DreamWorks' cornerstone business remains feature films such as its "Shrek" blockbusters and the recent hit "Shark Tale." DreamWorks declined to comment.
Copyright 2018 The Associated Press. All rights reserved. This material may not be published, broadcast, rewritten or redistributed. We strive to uphold our values for every story published.