When Mike McCaffrey's not making art, he's protecting it.
The Kansas University painting student works 20 hours a week as a security guard at the Spencer Museum of Art.
"I think I've learned a great deal up there just being around it (art) and looking at it anywhere from three to four to five times a week," he says.
His job, he jokes, is to make sure people "keep their dirty mitts off the art."
But at his makeshift studio in the living room of his father's Lawrence home, McCaffrey doesn't hesitate to get hands-on with oil paint, glopping it on canvases in thick, expressionistic strokes.
Whereas long, silent durations at the museum tend to render McCaffrey numb, sessions painting portraits at his easel elevate him, if not to nirvana, at least to fluidity.
"One of the reasons I started painting ... is because I started doing it one day and I realized I didn't think when I did it. My mind was completely clear," he says. "That's the way it's been ever since then, and that's a really cool feeling."
That he can attain such clarity is a bit surprising given what he says are the challenges of depicting the human figure:
"Everything," he says, smirking.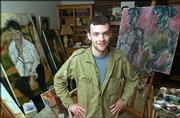 "It's proportions and bone structure and all that. There's so much underneath, and everything effects everything, and it's just really, really difficult for me to do. And I think that's why I've enjoyed it so much. It's always been such a challenge."
Another hurdle has been finding models. He can't afford to pay someone to sit for him, and figure drawing models don't hold poses long enough for a painter. So on the walls of Kimbari -- the downtown imported goods shop where McCaffrey will open his first solo exhibition on Friday -- viewers will come face to face with McCaffrey's girlfriend, mother, grandmother, "people close to me that I can harangue into sitting down for longer than an hour," he says.
McCaffrey peers from some of the canvases, too. In one self-portrait, sharp highlights and shadows chisel his face into weary peaks and valleys. The mood seems dark. But McCaffrey attributes that to literal rather than conceptual reasons.
"I had my studio in the basement for a while at the beginning of the semester and ... it was like a prison cell -- damp and dark and just not a fun environment to work in," he says.
On viewWhat: Paintings by Mike McCaffreyWhen: Friday-June 6 with a reception at 7 p.m. FridayWhere: Kimbari, 15 W. Ninth St.Hours: 10:30 a.m.-6 p.m. Monday-SaturdayInfo: 842-1067
"That one was a self-portrait, and I was looking down in a mirror and my only light source was a light bulb a little bit above my head."
McCaffrey, a 1997 Lawrence High School graduate, turned to painting in 2001 after taking a year off from Johnson County Community College to work in food services at KU's Burge Union. He had drawn but never painted before coming to KU, where art professors Tanya Hartman and Peter Thompson have influenced him.
He expects to complete his degree in the fall and continue his training in a graduate program.
In the meantime, he'll show more than 20 of his paintings at his Kimbari show. The pieces range from 18 inches square to 4 feet by 7 feet and sell for $150 to $1,000.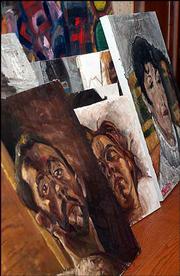 "I think he really does a good job of capturing likenesses," Kimbari co-owner Kate Gonzalez says of McCaffrey. Gonzalez and her husband, Rafael Gonzalez, plan to showcase a new local artist each month in their store.
McCaffrey contends viewers can learn more about him by spending time with his artwork.
"I told a teacher at the beginning of this semester," he says, "that I kind of always thought that every painting you did was like a self-portrait because part of you is in it."
Copyright 2018 The Lawrence Journal-World. All rights reserved. This material may not be published, broadcast, rewritten or redistributed. We strive to uphold our values for every story published.