Photographer: Scott McClurg
Camera: Nikon D1X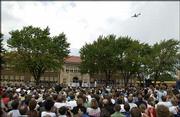 Lens: 17-35mm
ISO: 200
Shutter: 1/500th second
Aperture: f8
When photographers get assignments to cover presidential visits, we usually experience two emotions: excitement to see the president and disappointment about access, security and logistics.
The same was true for last week's Brown v. Board of Education ceremonies in Topeka. Several of the speakers were interesting and had good messages. But from a photographer's standpoint, they all just took turns standing behind a podium. Meanwhile, we were herded inside a fenced area on scaffolding, and all strained to take the same pictures.
Anytime something remotely unexpected happens, however, you get a chance at something more than just a speaker shot.
During a break in the ceremony, Air Force One flew over the school building, and I was able to make this picture.
It won't win any awards or lead a page, but it's still one of my favorites of the day because it's something different than the normal speaker shot.
---
"Behind the Lens" is an ongoing weekly series that features an image selected by the Journal-World photo staff that previously ran in the newspaper or online. Wondering how a certain picture was created? Nominate it for "Behind the Lens" by contacting chief photographer Mike Yoder at 832-7141 or myoder@ljworld.com.
Copyright 2018 The Lawrence Journal-World. All rights reserved. This material may not be published, broadcast, rewritten or redistributed. We strive to uphold our values for every story published.