Julee Travis swapped one rewarding, full-time job for another.
Travis, 31, gave up working as a communications coordinator for Cottonwood Inc., in order to become a stay-at-home mom and devote all of her time to raising her children, Nicholas, 3, and Samantha, 6.
It hasn't been an easy trade.
"Motherhood is kind of a crazy career choice. The trouble is there's no real rule book and there's no evaluation. There's no policies and procedures. It's kind of scary because you want to know if you're doing it right," says Travis, a Lawrence resident.
"If you had a job, you'd have a supervisor. But with motherhood, when you're making that transition from working outside the home, you lose that, those words of encouragement that a boss should give his or her employee. All of a sudden, you're alone."
That's the reason for MOMS Club.
The name stands for Moms Offering Moms Support, and that's exactly what it is: a kind of support network specifically for at-home mothers. It offers moms and their young children the chance to get together for a wide range of social activities, share their talents, meet new people and do service projects.
The international, nonprofit organization was founded in 1983 by a California at-home mom. Today it has more than 1,500 chapters and 75,000 members in the United States, with more chapters opening abroad. Membership dues are $20 per year.
MOMS Club has two chapters in Lawrence, North and South, each with about 40 active members. The two groups were formerly one chapter, but when membership reached about 90 people, a second chapter was formed.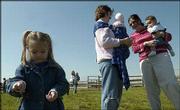 MOMS Club of Lawrence got started in May 1999, and the original chapter divided in May 2003.
Travis is president of MOMS Club of Lawrence-North. MOMS Club is ideal, she says, for the brand-new, at-home mom or first-time moms of any age.
"You can't get enough adult conversation when staying home with children. You just want to be able to talk about more than Clifford the Big Red Dog," Travis says.
"Motherhood is the greatest job on earth, but it's the most difficult one. It's like a roller-coaster ride."
Sense of humor helps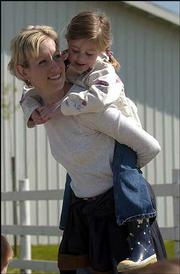 The Lawrence chapters of MOMS Club offer support, friendship and enrichment activities to at-home moms and their children, who generally range in age from a couple of months to 5 or 6 years old.
There are monthly meetings, plus book groups, play groups, arts and crafts, music and story time, field trips and service projects. Three to four different activities are scheduled each week.
Members regularly offer to swap baby-sitting duties, deliver home-cooked meals to moms who are having hardships and serve as a ready source of advice, reassurance and encouragement for each other.
Members also get together about once a month for MOMS Night Out, a time for moms to leave the children with dad and have dinner, relax and just hang out.
MOMS Club is just what Heather Nichols was looking for.
"When I joined MOMS Club I was new to the community. I needed something social for me and developmental for my kids. I needed something to save my sanity," says Nichols, 29.
"It's a 24/7 job (being an at-home mom), and there's no breaks except for nap time. I don't have family in Lawrence, and these women are my family."
Nichols has belonged to the group for four years. A member of MOMS Club-North, she has two children: Olivia, 6 months; and Jackson, 4. She works part time from her home, proofreading for Allen Press.
MOMS Club members are an irreverent bunch who have a good sense of humor about both themselves and the challenges of motherhood.
Some husbands of club members have lightheartedly referred to the group as the "MOMS Mafia" or "Mothers Without Boundaries."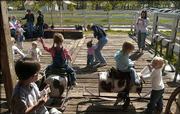 "It's almost like a comedy troupe sometimes. We go out to dinner and talk about everything from children in diapers to 'The Vagina Monologues' for our book club," says Adrienne Paranjothi, 34, a member of MOMS Club of Lawrence-North.
She is the mother of Cecilia, 15 months, and Oliver, 3. She has belonged to the club for three years. Before she decided to be an at-home mom, Paranjothi worked as a school psychologist.
"You have to be able to laugh about what goes on during the day. Otherwise how are you going to make it? It's the toughest job I've ever had," she says.
Adult interaction
A big part of belonging to MOMS Club is simply having the opportunity to make friends with other mothers, share experiences and find support in facing the challenges of rearing children.
"All of us pretty much had careers before, and you lose that base in your life (when becoming an at-home mom). Motherhood's great, but you get lonely. If you don't have someone to talk to, you go insane," says Lana Grove, president of MOMS Club of Lawrence-South.
Grove, 35, is the mother of Quincy, a 3-year-old girl, and is seven months pregnant with her second child. She and her husband, Jason, moved to Lawrence two years ago from California.
Grove has a bachelor of fine arts degree and previously was a behavior specialist working with children and adults who have disabilities.
"It provided a really good base for me to meet people once I got here. Most of my friends are people I met through MOMS Club. We have the same values, we are raising our kids the same way and our kids become friends," Grove says.
Tracey Kastens, a member of MOMS Club-North, tells a similar story. She is the mother of a 4-month-old son, Quincy, and a 2-year-old daughter, Marlowe.
Kastens, 29, is a former high school teacher. Her husband, Jude, 30, is earning a doctorate in math from Kansas University.
MOMS Club has helped Kastens make the transition from working to being an at-home mother.
"When you're home all day with just your children, reading Elmo books and watching Barney videos, it gets to the point where you want some adult interaction," she says.
"It's a good support network, all the other moms are going through the same things you've gone through. You're not alone."
Copyright 2018 The Lawrence Journal-World. All rights reserved. This material may not be published, broadcast, rewritten or redistributed. We strive to uphold our values for every story published.