A processional of about a dozen women in red and purple regalia set out blocking a Massachusetts Street sidewalk Saturday afternoon, giggling, marching in step or rolling in wheelchairs and tooting kazoos to the tune of "Yankee Doodle." They made it about a quarter of a block before retiring the parade.
"Maybe we need to go back the other way because some of the ladies can't go that far," yelled Lori Lange, the fledgling band's honorary conductor.
So the women spun around and marched back into Prairie Patches, 821 Mass., for cake, flower-arranging lessons and glamour shots.
It was "Red Hatters May Day Celebration," organized -- or perhaps disorganized -- by the Prairie Patches Red Hatters, one of eight groups of Lawrence women older than 50 who belong to the international Red Hat Society, which formed in 2000.
More than 100 women stopped by the store, about a quarter of them inquiring about membership. The rest were members of society groups around northeast Kansas, including the eight Lawrence chapters, said Cinda Garrison, 62, a purple feather boa-bearing, red straw hat-wearing member of the Prairie Patches bunch.
And the outfits?
"Red hat ladies love to call attention to the fact that they're liberated women," Garrison said.
Society rules: Wear a red hat and purple gear. Oh, and forget about discussing serious matters at monthly meetings.
"We can't talk about anything sad," said Ruth Riggins, 84, who stood tall in her black pumps, purple pleated skirt and floppy red hat. "Or any of our aches and pains."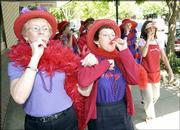 Members of Riggins' group, the Darling Daring Damsels, meet for lunches around town, organize picnics and give each other an excuse to be rambunctious. Her group formed just a couple months ago and already has met its cap of 25 members. Membership is limited because it's easier to make restaurant reservations that way, she said.
Inside Prairie Patches, a group of women in purple windsuits and undecorated hats eyed the rack of flashy red hats displayed beside the store's tripaneled mirror.
One woman was wearing a red graduation cap she found in a thrift store in Kansas City, Kan., where she lives.
"I'm graduating from being old and stale," said Bucella Bettis, 66, of the Kansas City, Kan., Crimson Bell Club.
You know, it's OK to get old, Garrison said.
"It's better than the alternative," she said.
Copyright 2017 The Lawrence Journal-World. All rights reserved. This material may not be published, broadcast, rewritten or redistributed. We strive to uphold our values for every story published.