Each year, artists and art lovers crowd South Park the first weekend in May to attend a long-standing, annual event called Art in the Park.
And you can bet Julie Kingsbury, a Lawrence metalsmith, will be on hand to display and sell her silver-and-gemstone jewelry, as well as chat with customers examining her work.
"It's always been one of my favorite shows. It's got the Lawrence atmosphere, great music and great food. And there's a wide variety of high-caliber artists," said Kingsbury, who has a bachelor's degree in metalsmithing and jewelry design from Kansas University.
It's not just fun for Kingsbury -- it's profitable, too.
"I have repeat customers who come and look for me. I do about 25 (art shows) a year. This is my full-time job, and Art in the Park is one of my better shows," she said.
Kingsbury's handmade pendants, earrings and rings will be among the work of 115 Lawrence-area and regional artists who are participating in the 43rd annual Art in the Park.
The event, sponsored by the Lawrence Art Guild, will be from 10 a.m. to 6 p.m. Sunday in South Park. There is no charge to attend.
"It's got a real history," said Elaine Matt, president of the guild. "People have come to expect it and look forward to it."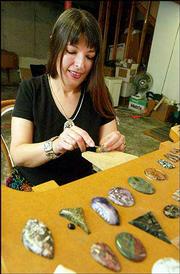 All participating artists have had their work screened by the guild's board to assure high standards.
Artists come from Lawrence and across Kansas to participate at Art in the Park. There will also be a handful of artists from Missouri, Nebraska and Iowa.
The art will include photography, jewelry, ceramics, paintings, glasswork, textiles and sculpture.
The Lawrence Arts Center will set up a children's tent where youngsters can try their hand at different creative projects.
All artists and food vendors at the event are asked to contribute 10 percent of sales to the Lawrence Art Guild, which, in turn, plows that money back into the city's arts community.
This year's event will be longer than past shows, if weather allows.
"We launched these new, extended hours (10 a.m. to 6 p.m.) last year, but we had to shut down at 3 p.m. due to severe weather. We're hoping the weather will cooperate, and for the first time we'll have the full, extended hours," Matt said.
The 43rd annual Art in the Park, sponsored by the Lawrence Art Guild, is from 10 a.m. to 6 p.m. Sunday in South Park.The work of 115 artists will be for sale.There will be food and drink vendors, Lawrence's own Balloon Man and volunteers from the Lawrence Humane Society with pets available for adoption.There will also be a variety of live music and dancing at the South Park Gazebo.Here is the schedule of entertainment:10 a.m.: The Prairie Acre, playing bluegrass and folk music.11 a.m.: The Larryville Stompers, playing everything from gospel to country.Noon: Lawrence City Band.1 p.m.: Billy Ebeling and the Late for Dinner Band, playing Zydeco and blues.2 p.m.: Bowery Dancers, presenting modern dance on the park's east lawn.3 p.m.: Uncle Dirty Toes, presenting Celtic folk rock.4 p.m.: Glass Coffee Table, singing a capella jazz.5 p.m.: Border Band, playing "rawhide rock."For more information, visit the Web site of the Lawrence Art Guild at www.lawrenceartguild.com.
Copyright 2017 The Lawrence Journal-World. All rights reserved. This material may not be published, broadcast, rewritten or redistributed. We strive to uphold our values for every story published.