Dublin, Ireland — In Ireland, a first-time author is reaping bucketloads of publicity, six-figure deals and Hollywood interest for her new tear-jerker novel. She's also the prime minister's daughter.
Cecelia Ahern, 22, who recently spent time signing newly minted copies of "PS, I Love You," for several hundred fans at a Dublin bookstore, has rebuffed claims that her success is due to the high profile of her father, Irish Prime Minister Bertie Ahern.
"I think it's very flattering for Dad, actually, to think he has all this influence with Hollywood and all over the world," she says.
She may have a point. The novel already has proved exceptionally attractive to publishers in countries where, as the young author puts it, "the reaction is, 'Bertie who?"'
"PS, I Love You" has been snapped up by publishers in 23 countries, including a $1 million deal with Hyperion Books. Hollywood producer Wendy Finerman, who shared an Academy Award in 1994 for "Forrest Gump," bought the film rights for $100,000. Ahern has made enough money, she says, to buy her first laptop and to move out of her mother's house.
The author's lineage is the major talking point in Dublin, where an initial print run of 50,000 copies has made "PS, I Love You" an immediate best seller.
The novel tells the story of Holly, a 30-year-old Dubliner whose husband, Gerry, dies unexpectedly of a brain tumor. Holly discovers he has left her 10 sealed envelopes containing monthly tasks Holly must complete or challenges she must face, each designed to help her come to grips with her grief and embrace life again.
Ireland's airwaves and newspapers have devoted unusual space to discussing whether Ahern's work is an exceptional piece of "chick lit."
"Heartbreak, intrigue and love letters from beyond the grave -- read that lot on a back cover, and you'll find it hard to put it down," said a review in The Irish Times, Ireland's often-stuffy newspaper of record, which found Ahern's style flawed but "neither syrupy nor stilted, with promising flashes of humor and a relaxedly bawdy use of expletives."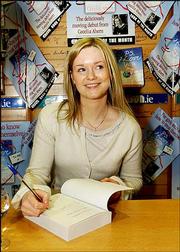 Other critics have been nastier, quoting particularly wooden bits of dialogue from the novice writer's book. But the levelheaded Ahern said her political pedigree means she's tough enough to take it -- and she's already written her second novel.
"I grew up seeing people write terrible and untrue things every day about my dad, who works 24-7 in politics and is an amazing man," she says. "So if there is constructive criticism, I'm going to take it -- if I agree with it. Fortunately, there's nothing I agree with so far!"
Her success story has added a new twist to one of Ireland's longest-running soap operas -- the life and loves of Bertie Ahern.
Ahern is Ireland's first prime minister to suffer an openly broken-down marriage. His daughters, Cecelia and Georgina, have remained close to their father but grew up with their mother, Miriam, in a country where divorce was illegal until 1997.
As prime minister since 1997, Ahern traveled across Ireland and the world with his longtime partner, Celia Larkin, at his side, courting criticism from religious conservatives in this overwhelmingly Catholic country. But their relationship fell apart last year. Since then, Irish tabloids have been speculating about a possible Bertie-Miriam reconciliation.
The Ahern clan also gained in the domestic glamour stakes last year when Georgina married Nicky Byrne, a member of Ireland's best-known boy band, Westlife.
Cecelia Ahern says she has no intention of drawing on her parents' troubles for inspiration in her fiction. "I have an imagination of my own. There's plenty of ideas floating around up there already," she says.
Copyright 2018 The Associated Press. All rights reserved. This material may not be published, broadcast, rewritten or redistributed. We strive to uphold our values for every story published.