Baghdad, Iraq — Militants loyal to Abu Musab al-Zarqawi said Saturday they had kidnapped three Turkish workers and threatened to behead them in 72 hours, heightening tensions as President Bush visited Turkey.
In new violence, an explosion possibly from a car bomb ripped through downtown Hillah, a largely Shiite Muslim city south of Baghdad, killing 19 people and wounding around 60, a senior Iraqi police official said. The official described the blast as a vicious attack on Iraqi civilians.
The bloodshed and the abduction -- the latest claimed by al-Zarqawi's movement, which beheaded two previous hostages, an American and a South Korean -- threatened to cast a shadow over a NATO summit opening Monday in Istanbul, where Bush is seeking the alliance's help in stabilizing Iraq.
The kidnappers demanded the Turks hold demonstrations protesting the visit by the "criminal" Bush and that Turkish companies stop working in Iraq, or else the hostages would be killed.
Iraq's interim prime minister warned that if security does not improve, it may become necessary to delay national elections set for January -- a key landmark in the path to democracy that the United States has tried to enshrine before handing power to the Iraqis on Wednesday.
The abductions are likely to stoke anti-war sentiment in Turkey, where Bush is already extremely unpopular. Hours ahead of his arrival in Ankara, police battled scores of protesters Saturday, eventually firing tear gas to disperse them.
News of the latest abduction came as the body of Kim Sun-Il, a South Korean worker decapitated by al-Zarqawi's followers last week, was brought back to his hometown, Busan.
His slaying has prompted nightly vigils in the Korean capital, Seoul, urging the government to call off its plans to send 3,000 troops to Iraq beginning in August.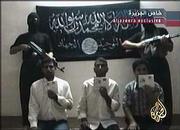 Copyright 2018 The Associated Press. All rights reserved. This material may not be published, broadcast, rewritten or redistributed. We strive to uphold our values for every story published.