Ernest Martinez can work magic with a 40-cent handkerchief and some leftover oddities.
Martinez, an inmate at the Eastham Unit in Lovelady, Texas, uses coffee grounds, pencil shavings and aloe vera lotion to decorate handkerchiefs made by prison laborers.
His work, along with the creative stylings of other inmates, will be displayed at "Freedom Unbound: Art from within American Gulags," an art show sponsored by the Lawrence Anarchist Black Cross. The exhibit opens Wednesday night at the 4-1-1 Studio, 411 E. Ninth St.
"Ernest is one of many talented prisoners who will be featured," says Chantel Guidry, an Anarchist Black Cross member and local activist. "With this show, we want to people to see what prisoners are capable of creating, even under the most inhumane conditions."
The Anarchist Black Cross aims to bring attention to the plight of all prisoners, Guidry says, and to make personal connections with inmates. Many of the organization's members have pen pals behind bars.
"There are 2.2 million people in America's prisons right now," says Tony Young, co-organizing the show with Guidry. "Those are people in there, human beings. We just feel they should be treated as such."
Guidry and Young have received more than 100 pieces of art from prisoners across the country; the 4-1-1 Studio -- owned by Lawrence artist Dave Loewenstein -- is filled with submissions ready for display.
"We sent out information about the show to prisoners we knew, and word spread," Guidry says.
Most of the work submitted is from male inmates; only two women have sent in pieces of art.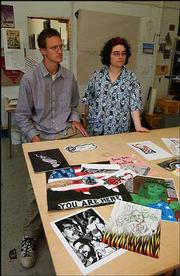 "The problem is, we don't have a lot of contacts in the female prison population," Guidry says. "That's something I really want to work on."
Artists range in age from early 20s to late 50s.
Much of the artwork will be for sale, starting at $5 for hand-decorated envelopes to $400 for one prisoner's entire collection. Profits will go to the artists, though some requested the money stay with the Anarchist Black Cross to cover costs and sponsor future shows, Guidry says.
Young says he has been impressed with the quality of work received.
"One artist, Ricky Brown, sent dozens of amazing cardboard pieces to us, which is pretty remarkable considering his situation," he says. Brown is serving time at Georgia's Dooly State Prison, where art is considered contraband.
What: "Freedom Unbound: Art from within American Gulags," an exhibition featuring artwork from prisoners across the countryWhen: A reception will be from 7 p.m. to 10 p.m. Wednesday.Raegan Butcher, a poet from Washington who has written about his own time behind bars, will speak at the event. Local band Lila also will perform. The exhibit runs through July 7 and will be open daily from noon to 5 p.m.Where: 4-1-1 Studio, 411 E. Ninth St.Info: 550-8531
"Just imagine having to constantly hide your artwork from guards for fear of it being taken and destroyed," Young says.
Many of the submitted pieces radiate raw expression through surprisingly detailed means, Loewenstein says, considering the prisoners' limited access to standard art supplies.
"The work is just honest," he says. "The prisoners are communicating what life was like before prison, in prison and what they picture life to be again outside prison walls."
The show opens the same day as the We Are Resisting Conference, which will be on the Kansas University campus. The conference bills itself as a weeklong festival of resistance for dissidents from around the country.
"We had been talking about doing this show for awhile, and with the conference happening, we thought this was the perfect time to do it," Guidry says. "We hope it will bring in more people who are in town."
Young says he hopes the show will open people's eyes to the basic right of artistic expression.
"Our prison system touts rehabilitation, but really, it is the exact opposite when art is discouraged," he says. "To have that right taken away makes no sense for anyone."
Copyright 2018 The Lawrence Journal-World. All rights reserved. This material may not be published, broadcast, rewritten or redistributed. We strive to uphold our values for every story published.