London — Monica Lewinsky begs to differ.
The former White House intern scorned Bill Clinton's explanation that he had an affair with her "just because I could," and accused the former president of failing to correct the record and make clear their relationship was mutual in his new memoir.
In her first public comments on the book, "My Life," Lewinsky accused Clinton of trying to destroy her with his characterization of the affair as something dirty and wrong, and argued the liaison was one of mutual affection.
"I really didn't expect him to go into detail about our relationship" in the book, the 30-year-old Lewinsky said in an interview with The Daily Mail.
"But if he had and he'd done it honestly, I wouldn't have minded. ... I did, though, at least expect him to correct the false statements he made when he was trying to protect the presidency."
"Instead, he talked about it as though I had laid it all out there for the taking. I was the buffet and he just couldn't resist the dessert," she was quoted as saying.
In an interview with Independent Television News broadcast Friday, Lewinsky said she was especially upset by Clinton's assertion on CBS' "60 Minutes" that he embarked on the affair "for the worst possible reason. Just because I could."
"I was really upset when I first heard it," Lewinsky said.
Clinton, in an interview Thursday on CNN's "Larry King Live," said he realized the comment could sound harsh but that it was not intended to offend Lewinsky.
"When I say I did it because I could, if you take it out of context it sounds jolting and snipping and arrogant and unfeeling toward Monica Lewinsky or my family," he said, according to a CNN transcript.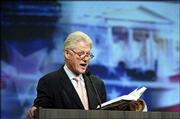 "That is not what I meant ... Anybody who's lived a certain time has made some mistakes. If you look back on your life and you think about the things that you did wrong that you knew at the time you shouldn't do, about the best explanation is you did it because you could. Not just in this context -- in many contexts."
Lewinsky said she had spent the past several years trying to "move on" and build a life.
"It has been so difficult because of so many of the lies that he has told about me and about what happened," she told ITN.
"I can understand someone wanting to save his presidency. But I don't accept that he had to completely desecrate my character, which not only affected me, but my family, my friends and my future."
Lewinsky noted that when prosecutors began pressuring her about her affair with the president, she was the same age his 24-year-old daughter, Chelsea, is now.
"How would he feel if (Chelsea) was trashed by the person she had had the relationship with -- a person who has denied it to save himself -- if she was called a liar, a stalker, crazy, stupid?" the Daily Mail quoted Lewinsky as saying.
Lewinsky said her relationship with Clinton had been mutual, "from the way it started, all the way through."
"My memories of it were much more positive. I think that I had enjoyed someone being so happy to see me, and certainly the gifts that were exchanged were touching."
Copyright 2017 The Associated Press. All rights reserved. This material may not be published, broadcast, rewritten or redistributed. We strive to uphold our values for every story published.