With garage-sale season at its peak, some Lawrence residents say they're being turned away at local thrift stores when they try to donate leftover items.
Phillip Hart said he was surprised on a Saturday afternoon earlier this month when employees at the Helping Hands of Goodwill, 2200 W. 31st St., refused to accept items including baskets, Tupperware and miscellaneous kitchen equipment. Hart said his wife took the items to the Salvation Army, 1818 Mass., but a man inside mouthed the words, "We're full."
Others who participated with Hart in a neighborhood garage sale reported similar experiences.
"It was kind of frustrating," Hart said. "We threw it out because we couldn't get anyone to take it."
Local thrift-store officials said they tried to avoid turning people away. If what Hart describes is happening regularly at Goodwill, it shouldn't be, said Cathy Nolan, a spokeswoman for the agency, which raises money for vocational training for the disabled and disadvantaged.
"If these (items) were in salable condition and they were not accepted, there's something we need to know about," Nolan said. "This is something we impress upon our staff very strongly because every donation that we get helps fund what we do."
The Salvation Army store recently had a "personnel problem" in which an employee was turning too many people away and being too picky with donations, store manager William Collette said. He said the store only stopped taking donations when its building was completely full -- something that can happen on occasion this time of year on Saturday afternoons after garage sales.
Collette said his store didn't accept gas dryers, broken appliances or waterbeds.
"If people have truckloads of stuff, they should call us first instead of wasting their time, or maybe save their stuff until Monday," he said.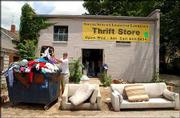 Goodwill doesn't take food or hazardous items such as hairspray or nail polish, and it turns down some children's items such as high chairs because of liability concerns, Nolan said. It turns down refrigerators because of the freon or mattresses because of sanitation issues. Washers and dryers aren't accepted because there's no way to guarantee they work.
At the Social Service League store, 905 R.I., there are only a few items manager Jean Ann Pike won't accept.
"I will not take another hide-a-bed couch. Too heavy to lift," she said. "No used tires unless they're connected to a good used car. We hope everything coming in is clean and seasonal."
The most important thing people need to know about bringing donations, Collette and Pike said, is that they shouldn't leave items after hours.
"With all the people that drop stuff on us when we're closed, we come back in and we've got a wet disaster on our hands," Pike said. "It goes from treasure to trash if it's left sitting outside."
Copyright 2017 The Lawrence Journal-World. All rights reserved. This material may not be published, broadcast, rewritten or redistributed. We strive to uphold our values for every story published.