Baghdad, Iraq — A militant group claiming to hold a Filipino truck driver hostage denied reports Saturday that the father of eight had been freed after his televised plea for his life and assurances from the Manila government that its 51 troops would be withdrawn from Iraq next month.
A written message to the Al-Jazeera TV channel warned that Angelo De la Cruz, 46, would be killed if the Philippines government fails to withdraw its military contingent by July 20. It gave Manila, the Philippine capital, a deadline of today to promise compliance.
Less than an hour before the Arabic-language satellite channel aired the message, Philippines officials said De la Cruz had been released and was en route to an undisclosed Baghdad hotel.
Al-Jazeera had carried footage earlier in the day of the handcuffed captive urging Philippines President Gloria Macapagal Arroyo to pull the Filipino contingent out of Iraq. De la Cruz also urged more than 4,000 other Filipinos who work as civilian contractors in Iraq to leave.
There was also uncertainty Saturday over the fate of two Bulgarians kidnapped near Mosul in northern Iraq more than a week ago. The kidnappers threatened to kill them unless the U.S.-led multinational forces released all Iraqi prisoners within 24 hours, a deadline that expired late Friday.
In Ramadi, a city in the heart of the insurgent stronghold known as the Sunni Triangle, gunmen firing from a taxi stand attacked a Marine observation post with small-arms fire shortly after daybreak. Marines killed three of the attackers and destroying the taxi stand.
Insurgents also were blamed for an attack on a natural gas pipeline, which officials said would cut into fuel supplies to a power station north of Kirkuk and curb electricity production. It was not immediately clear how significant the losses would be.
In the Philippines, National Security Adviser Norberto Gonzales said De la Cruz was "in safe hands." Reports of De la Cruz's freedom reaching Manila were convincing enough to prompt Arroyo to telephone the hostage's wife with the news, setting off jubilation in the family's hometown.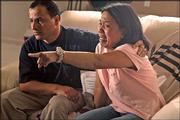 But the group claiming to hold him told Al-Jazeera that it still had the Filipino.
"The hostage will remain captive and treated as a prisoner under Islam until the last Filipino soldier leaves Iraq July 20 at the latest. . . . Or he will be executed," read the letter from the group calling itself the Islamic Army of Iraq, Khalid bin al Waleed Brigade, which was shown on late-night newscasts of the Qatar-based satellite channel. It said it was giving the Philippines government 24 hours to demonstrate that it was serious about withdrawing.
The De la Cruz case was the latest in a flurry of kidnappings aimed at weakening support for the U.S.-led occupation.
Copyright 2018 The Lawrence Journal-World. All rights reserved. This material may not be published, broadcast, rewritten or redistributed. We strive to uphold our values for every story published.