It's a daunting task by any standard: Assemble a visual identity for Lawrence in honor of its 150th anniversary.
Where to begin?
In its upcoming exhibition "Windmills to Workshops: Lawrence and the Visual Arts," the Spencer Museum of Art starts with the obvious.
"The notion of the spirit of Lawrence tied very much to its history and its landmarks fills a lot of the wall space," Kate Meyer, curatorial assistant in the department of prints and drawings, explained recently as she meandered through the Kress Gallery. "But part of Lawrence's identity is definitely a city committed to the arts, and I think that was a driving principal for the rest of the show."
Meyer and a handful of curatorial interns divided the sesquicentennial exhibition into four sections:
Art that documents Lawrence and its residents.
Work by faculty associated with Kansas University's art and design departments.
Work by KU alumni artists.

Work by artists and workshops that have operated in Lawrence.
When visitors enter the gallery's first room, they'll encounter paintings, drawings, prints and photographs that recall a pre-dorm Daisy Hill where daisies actually flourished; a Dutch-style windmill that once punctuated the city's skyline but burned to the ground in 1905; a contemporary view of Mount Oread, complete with a tangle of university buildings; a black-and-white photograph of a 1979 homecoming dance at Lawrence High School; and a simple stone bridge that spanned the Wakarusa River.
"I'm fond of the idea that a landmark is something that, even if it's just a little bridge, this is a very significant landmark to the people that are here -- as much as the Eiffel Tower would be for someone else," Meyer said. "It's all a matter of perspective."
Common spirit
And perspectives are bound to be challenged by this exhibition.
The rest of the rooms in the gallery consist of artworks that might have no connection to Lawrence other than that the artist created it here, teaches at KU or once went to school there.
Among the works are landscape paintings by former KU professor Robert Sudlow and his student Keith Jacobshagen; a prairie-burning photo by KU alumnus Larry Schwarm; a painting by beat icon and late Lawrence resident William S. Burroughs; drawings by current Lawrence artist Colette Bangert; a mixed media work by former KU student Ward Lockwood; and a lithograph by recently retired KU painting professor Roger Shimomura.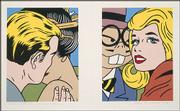 With all the diversity in the exhibition, Meyer wondered whether a common spirit of Lawrence would emerge.
"I think that in these works a keen interest and fascination with line and a strong appreciation of space -- either in its sparseness or vastness -- emerges," she said.
In a broader context, "Windmills to Workshops" exhibits an ongoing connection between the city and the university on the hill, said Clenece Hills, president of the Lawrence Sesquicentennial Commission, which helped fund the Family Day and public opening of the show.
"It's not only fascinating, I think it is a very clear evidence of our link between the university and the community," she said of the exhibition. "It's just one more way that KU and Lawrence cooperate and re-inforce each other, and of course Lawrence's history and KU's history are so intertwined."
As part of the exhibition's emphasis on local workshops, portraits of vaudeville stars taken by Orval Hixon, whose Main Street Studio operated in Lawrence for more than 40 years during the early 20th century, will be on display in the South Balcony Gallery.
Cultural cachet
Also on view will be selections from the archives of the Lawrence Lithography Workshop, incidentally celebrating its 25th anniversary this year. Since Mike Sims started the workshop in 1979, it has collaborated with more than 120 artists, including Shimomura, Sudlow, Jaune Quick-To-See Smith and Susan Davidoff.
Though the workshop operated briefly in New Mexico and now occupies a 3,600-square-foot studio in Kansas City, Sims chose to retain the Lawrence name.
"By the time I left Lawrence (after 18 years), the shop had grown considerably, not just physically but in reputation," Sims said. "We just decided that the name had a certain amount of equity that would be hard to make up if I lost it and restarted with a new name."
During its time in Lawrence, the workshop drew artists from across the country.
"It was not only a service to Lawrence, but it actually gave Lawrence a kind of cachet in the larger art world," said Sims, who will give a gallery talk at the show's July 18 opening reception.
Meyer organized the exhibition, assisted by curatorial interns Tera Lee Hedrick, Sean Barker, Emily Stamey and Michelle Moseley Christian, and student assistants Jennifer Green and Sara Williamson.
Their selections represent just one view of Lawrence's visual history, but Meyer would be disappointed if viewers didn't draw their own conclusions.
"I hope that what will happen is they'll come through here and have a certain sense of what they think Lawrence's visual identity is, and maybe that will be confirmed by what they see or maybe that will change by what they see," she said. "Either way it's kind of fun."
Copyright 2018 The Lawrence Journal-World. All rights reserved. This material may not be published, broadcast, rewritten or redistributed. We strive to uphold our values for every story published.