Topeka — Used car salesman Leo Kerwin didn't claim Thursday to be a tax-policy expert.
Nor did he portray himself as an authority on public education in Douglas County.
But the owner of a car lot in Baldwin did end a Senate Assessment and Taxation Committee hearing with a pointed attack on a proposed half-cent increase in the Douglas County sales tax that would pump $5.8 million annually into school districts serving 13,000 children living in the county.
"I have a problem with sales tax," said Kerwin, of Wellsville.
He said a disproportionate share of the sales tax burden fell on working-class people such as himself.
"I just remember a remark my dad, who lived to be 97, said once: 'Those who make the laws go to the country club and drink martinis, and those who pay for them go to the bar and drink 3.2 (percent) beer.'"
Senators on the committee appeared amused by Kerwin's analysis but took no action on the retail tax bill.
Craig Weinaug, Douglas County administrator, told senators the measure was requested by cash-strapped school boards in Lawrence, Baldwin and Eudora.
"They're telling the county, unanimously, that they need more funds to do a decent job," he said. "If the Legislature is not able to come up with more funding, then it's critical for them to find other sources of funding."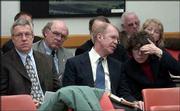 He estimated the tax would raise $453 per pupil each year. The Lawrence district would take in $4.4 million annually, with Baldwin receiving $617,000 and Eudora getting $565,000. The other districts serving Douglas County residents: Perry-Lecompton, $203,000; Wellsville, $26,000; Santa Fe Trail, $20,000; Shawnee Heights, $15,000; and West Franklin, $900.
If the 2004 Legislature authorizes a countywide sales tax election, the Douglas County Commission could include the question on a ballot this year. And if the tax is approved by a majority of voters, money would flow from the county treasury to eight school districts.
The initiative landed in the Senate committee because Douglas County has reached the sales tax cap set by the state and needs authorization from the Legislature to put an increase for schools on a ballot.
Sen. Mark Buhler, a Lawrence Republican on the tax committee, said school boards shouldn't start spending money from the tax yet.
"This is no slam dunk," Buhler said after the hearing. "I wouldn't guess the prospects are very good."
Such is the anti-tax fervor of many state politicians, he said.
Austin Turney, Lawrence school board president, said the state hadn't lived up to its constitutional duty to adequately finance public education in Kansas.
That led to painful decisions by the Lawrence school board to cut $7 million during the past three years, he said. The district closed four elementary schools, dropped full-day kindergarten, increased student fees, deleted courses and reduced administrators, teachers, counselors and nurses.
At the same time, he said, Johnson County passed a sales tax that will raise about $45 million for public schools there. That extra money will make it difficult for Lawrence to offer competitive salaries to teachers, he said.
Turney said preservation of the district's schools required an infusion of cash.
"I believe that our community will no longer stand by and watch the excellent educational system we have created deteriorate as we continue to cut program after program," he said.
Copyright 2018 The Lawrence Journal-World. All rights reserved. This material may not be published, broadcast, rewritten or redistributed. We strive to uphold our values for every story published.