It's been more than 30 years since The Collegians played a gig, but the jazz combo's music is about to get new life.
George Francis, who led the Lawrence-based band that existed from 1950 to 1969, has donated sheet music for 142 songs to Baker University's music department with hopes the beat will go on.
"I got to thinking somebody needs to use all this music I've got stacked in the closet," said Francis, a trumpeter. "They haven't been used at all."
The Collegians were a regular on the fraternity and sorority party circuit, playing pop hits from their day from such performers as Herb Alpert and the Tijuana Brass, Ray Charles and the Mamas and the Papas.
The band had eight instrumentalists and a vocalist. Most of the music The Collegians played was arranged by band members, with the majority coming from trombonist Dick Fritz, who later was active in the Los Angeles jazz scene.
Several other band members went on to successful music careers, including Jack Zimmerman, a trombonist who played with the Gene Krupa Band; Gary Foster, a studio saxophonist for the TV program "The Simpsons" and the movie "Pearl Harbor"; and Leonard Cuddy, former drummer for the Commodores, the Navy's premier jazz ensemble.
"We had some awful good musicians," said Francis, 75. "We had some good players."
But Francis folded the band in 1969, when his father, Gilbert, died and left him with full responsibility for running Francis Sporting Goods in downtown Lawrence. George Francis has since passed the business on to his son, Jon.
Francis still plays in the Jazzhaus Big Band, the Lawrence Summer Band and the Lawrence Senior Band.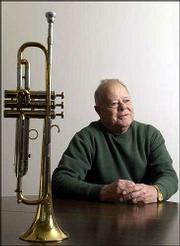 The idea of donating the music to Baker University came last fall, after Francis volunteered to play in the university's jazz ensemble to fill in for an ill trumpet player. He is friends with J.D. Parr, associate professor of music at Baker.
Parr said Baker had 600 pieces written for a big band but had very few charts written for smaller jazz combos.
"Really, nobody publishes anything like that," Parr said. "There are commercial versions, but usually they're either really bad, terribly, terribly difficult or just don't exist."
The music will make its official re-emergence Thursday when a Baker combo plays at the Lawrence Chamber of Commerce's Excellence by Design Investors Meeting, which begins at 7:30 a.m. at the Kansas Union. Featured titles will include "Take the A Train," "Kansas City," the Ray Charles tune "What'd I Say" and Herbie Hancock's "The Watermelon Man."
"This was like a godsend," Parr said. "We'll catalog these and hope to use them for many, many years."
Copyright 2018 The Lawrence Journal-World. All rights reserved. This material may not be published, broadcast, rewritten or redistributed. We strive to uphold our values for every story published.