Photographer: Mike Yoder
Camera: Nikon D1H digital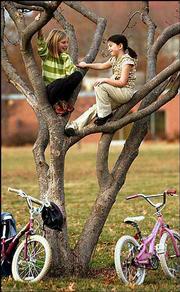 Lens: approximately 250mm
ISO: 320
Shutter speed: 1/750
Aperture: f2.8
I love uncomplicated feature shots. Sometimes all that is required is finding a good position for a simple composition and the patience to permit an interesting moment to occur.
I was driving by South Park when I spotted the two girls in the tree. I quickly parked and moved toward the tree. I already had a telephoto lens on my camera, so I rapidly framed the scene and took some photos. These quick, initial photos often accomplish two things for me. First, they establish my presence on the scene, allowing the subjects to recognize me, acknowledge me and then hopefully forget about me. Secondly, in case the scene dissolves upon my presence, I have these initial photos already in the bag.
After the first exposures, I then looked to improve the composition. My early shots were from the opposite side of the tree and had a distracting background and several branches blocking the view. I moved around the tree and framed a much cleaner scene. I included just a part of the bicycles and then kept my camera pointed at the girls visiting. I chose this particular frame because of the positions of the girl's arms and legs and their attentiveness to each other.
---
"Behind the Lens" is an ongoing weekly series that features an image selected by the Journal-World photo staff that previously ran in the newspaper or online. Wondering how a certain picture was created? Nominate it for "Behind the Lens" by contacting chief photographer Mike Yoder at 832-7141 or
myoder@ljworld.com
.
Copyright 2017 The Lawrence Journal-World. All rights reserved. This material may not be published, broadcast, rewritten or redistributed. We strive to uphold our values for every story published.