Another Lawrence institution is calling it quits.
After nearly 30 years in business, Amazing Grains Bakery has shut down its ovens, leaving northeast Kansans without the dense, moist loaves that were the bakery's signature.
"It will be hard to replace," said Laurell Matthews, retail manager at Community Mercantile Co-op, where the bakery was born in a back room in 1975. "I'm personally upset. Most of their breads were my preferred breads, and it will be the same way for our customers."
The decision to cease operations Wednesday was not easy, said Marin Massa, a baker and partner in the business that employed six people. But facing declining sales and rising costs for the natural and organic ingredients used, she didn't see much choice.
"It's just pretty hard for a small business to make it when you're trying to buy good ingredients and pay your employees a fair wage," Massa said Friday.
A tough economy has more people seeking less-expensive options, she said, and that made Amazing Grains' products a bit less tasty at the checkout.
"I know that a lot of our customers hold good ingredients and local business as a high factor," Massa said. "But if they have to pay more, well, I know a lot of people are in tight budgets at the moment."
So when it comes to a decision between a $3 Amazing Grains loaf of Sunny Seed or Lunch Box and a 99-cent supermarket loaf, the choice sometimes is that simple.
Retail slump
Amazing Grains' move in 1999 from the Merc to its location at 518 E. Eighth St. also may have played a role, Massa said.
"It was our first step into retail," she said. "Before, we were just wholesale. Our internal costs went up just trying to keep up retail sales and things like that. I'm sure it had to factor in."
In a December 2002 story on the bakery, Massa said sales had slumped immediately after the move but were rebounding.
Even then, the business aspect of the bakery was weighing on her: "For us, it's the love of doing it," Massa said at the time. "If we could just bake and not have to focus on the business side, that would be wonderful."
On Friday, bakery employees were cleaning, organizing and shining the baking equipment for a planned sale.
They also were breaking the news to the occasional customer who came seeking the Sweet Wheat or Peasant breads that were Amazing Grains' most popular loaves, or other products. Those would-be customers left disappointed.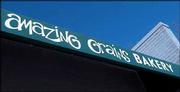 "They're very upset that they're not going to be able to find their bread any longer," Massa said. "And they're just sorry to see what a lot of people call a Lawrence institution closing its doors."
Deep roots
It's the second serving of such news in as many weeks.
A week ago, news came that a deal to reopen the Paradise Cafe had fallen apart and the space probably would be taken over by a barbecue restaurant. Paradise, a downtown landmark after more than 16 years in business, ceased operations in late December.
Though Amazing Grains has been in its present location for only a few years, its roots in the city are deep.
In 1975, Nan Renbarger, now a local artist, set up a bakery in the back room of the Merc, which then was at 615 Mass. She dubbed it the Verbena Bakery, and it operated as a sister business to the Merc.
In 1988, she got the idea of turning the business into a collective, and along with several partners founded Amazing Grains.
Going it alone
When the Merc moved to 700 Maine, and later to 901 Miss., Amazing Grains moved along with it. But when the growing Merc was preparing to make the jump to its current site at 901 Iowa, the bakery's partners decided it was time to set up their own freestanding business.
Its output and customer list have varied through the years, but the company recently was baking about 500 loaves a week, Massa said Friday. In about a dozen varieties, the bread was distributed to stores in Lawrence, Topeka and the Kansas City area. In the past, Amazing Grains also has supplied restaurants and delicatessens.
And the business has produced other items -- everything from granola and pizza crusts to chocolate strawberry cheesecake bars and other sweets.
But by Friday, the last Amazing Grains products were all but gone from Lawrence store shelves.
At the Merc, Matthews said other products would be sought to fill the space left empty by Amazing Grains' demise.
"We have dedicated nearly 6 feet of space for their bread, not huge, but as it goes it's a noticeable gap in our store," she said. "It will be hard to replace those products in a literal sense."
---
This story includes information from Kansas University journalism student D.J. Whetter.
Copyright 2018 The Lawrence Journal-World. All rights reserved. This material may not be published, broadcast, rewritten or redistributed. We strive to uphold our values for every story published.