When Lawrence native Justin Rapp returned to the United States from Iraq earlier this month with the 101st Airborne Division, he stunned his parents and his Ohio girlfriend.
During the welcome-home ceremony Feb. 8 at Fort Campbell, Ky., Rapp, 23, a 1999 Free State High School graduate, proposed to his girlfriend, Natalee Burgess.
The proposal came after Rapp's commanding officer, Capt. Steven Fandrich, called the private first class to the stage at the ceremony in front of about 800 people, said his mother, Nancy Rapp.
"He got down on one knee and asked her to marry him," Nancy Rapp said. "We guess she said 'yes.' We couldn't hear because the crowd was cheering. It was wonderful."
Nancy Rapp and her husband, Keith Dowell, both of Lawrence, were in that crowd and knew Justin planned to propose to Burgess when he returned. But they didn't know the couple would be called to the stage for it.
As it turned out, Justin didn't know he'd be called up in front of everybody, either, his mother said.
"I think it all happened too fast for him to be nervous," Nancy Rapp said. "I was a mess."
As for Burgess, "she was blown away," Nancy Rapp said.
Burgess is a former soldier, and she and Justin Rapp met in the Army. No wedding date has been set, and Nancy Rapp thinks it will probably be some time before the couple marry.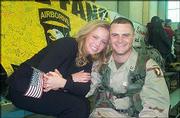 Justin Rapp, an artillery crewman, has been in Kuwait and Iraq since the division was deployed to that area a year ago. He later became the driver for his commander.
"He had been telling his buddies he was going to propose when he got back," Nancy Rapp said.
Justin Rapp will return to Lawrence for a visit probably in about a week, his mother said.
Copyright 2018 The Lawrence Journal-World. All rights reserved. This material may not be published, broadcast, rewritten or redistributed. We strive to uphold our values for every story published.