John Kerry coasted to victory in the Maine caucuses Sunday, wrapping up a three-state weekend sweep that pushed the Democratic front-runner closer to the party nomination than any of his vanquished rivals.
Howard Dean, who campaigned Sunday in Maine, finished a distant second in yet another disappointment for the one-time front-runner, and Rep. Dennis Kucinich of Ohio was third in one of his better showings of the primary season.
The Massachusetts senator tacked the Maine win onto resounding victories in Michigan and Washington state on Saturday for a record of 10 wins in 12 contests and, more important, a substantial chunk of the delegates needed to secure the nomination.
With around 50 percent of the vote, Kerry had 45 percent, Dean 26 percent and Kucinich 15 percent. John Edwards and Wesley Clark, who had focused on other states, had 9 percent and 4 percent.
"Today, the voters of Maine have sent a message that George Bush's days are numbered and change is coming to America," Kerry said in a statement in which he said he was "truly honored and humbled" by the confidence of the state voters.
Kerry has more than twice as many delegates as his closest pursuer, as his win in Maine pushed his total to 426 compared to Dean's 184, according to an Associated Press tally. It takes 2,162 delegates to win the nomination. Kucinich appeared to fall just short of qualifying for delegates in Maine, which had 24 at stake.
Kerry's winning streak is beginning to demoralize his opponents. Aides to both Clark and Edwards said they expected their candidates to lose Tuesday when Virginia and Tennessee have their primaries, the first all-Southern slate of the primary race.
Clark and Edwards, who promised Sunday to forge ahead despite Kerry's increasing advantage, are counting on a showdown in Wisconsin, where the front-runner will face withering attacks from all his rivals with the potential for a slip-up by the leader.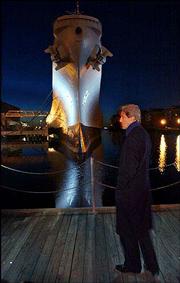 Kerry, campaigning like a front-runner Sunday, ignored his primary opponents and criticized President Bush on Iraq. He also picked up critical backing from Virginia Gov. Mark Warner.
Clark, Dean and Edwards, appearing separately on the Sunday television talk shows, all said they would continue to challenge Kerry for the Democratic nomination despite the Massachusetts senator's advantage in the polls and in endorsements.
"Real voters are going to decide who the nominee is," Dean said on CNN's "Late Edition."
Copyright 2018 The Associated Press. All rights reserved. This material may not be published, broadcast, rewritten or redistributed. We strive to uphold our values for every story published.