Trenton, Mo. — It might not be the type of art that will make her famous, but Esther Druckenmiller's wildlife portraits are more than just a leisurely hobby.
Her paintings of animals in the wild are reminiscent of a photo in National Geographic magazine, and the dogs in her pet portraits probably would meet the breed standards of the American Kennel Club. She's well-practiced, averaging about one wildlife portrait per week for 32 years -- more than 1,000 in all.
Her paintings were on display during January at the Dorris Rider Art Gallery at North Central Missouri College in Trenton.
The gallery displays the work of several artists each school year, and Druckenmiller's art is worthwhile, said Jim Norris, an NCMC art professor.
"It was something that fit into what we wanted to show the community," Mr. Norris said. "One of the things that I enjoy the most as an artist is to look and see how somebody else made something."
At 5 years old, Druckenmiller started making personal portraits by cutting a person's profile out of black paper and laying it against a white background.
"I looked at my mother one day and said, 'Can you sit down in that chair?'" she said, recalling her first portrait. "I was never taught."
At 18, while working at a studio on Fifth Avenue in New York City, she painted portraits of the Philadelphia Phillies -- on neckties. In 1953 she spent more than 100 hours painting a view of Meisenheim, Germany, where she and her husband, Jim, were living at the time. She painted the town, a classic European scene of white buildings with red tile roofs against a backdrop of green hills, for her husband. It's on display at the gallery but is not for sale.
Until she began her wildlife paintings in 1971, her priorities, and art, shifted toward her family.
"In between, I got married and had children and was painting ceilings and walls," she said.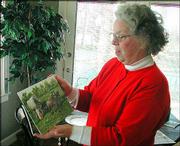 The Druckenmillers lived in an eight-bedroom Victorian in New Jersey, which was the benefactor of her artistic energy for many years. Jim Druckenmiller learned not to get too comfortable with a room arrangement.
The Druckenmillers didn't plan on ever leaving the East Coast, but when Jim Druckenmiller came to Trenton for a six-month assignment with ConAgra, they were struck by the town's calm friendliness, beauty and low cost of living.
Now Esther Druckenmiller, 72 years old and living in a new town, has more time to paint.
She uses oil paints, which take days to dry, giving her more time for other art.
"It's hard to say what I like best because if I get a good idea, I can't wait to get it done," she said.
Most of her animal portraits are painted on gray slate quarried from the mountains of Vermont and framed in walnut. Others are painted on geodes -- volcanic rocks with a polished marble-like center when sliced open. Each geode has its own color scheme, and Druckenmiller selects a different animal to match each one.
She says the most important detail is also the smallest -- the dot in the eyes. If the pupil isn't just right, the animal won't look alive. To earn her signature "DRUCK" at the bottom, each painting has to meet her approval.
"I don't give you the picture unless I'm satisfied," she said.
Copyright 2018 The Lawrence Journal-World. All rights reserved. This material may not be published, broadcast, rewritten or redistributed. We strive to uphold our values for every story published.