Sen. John Kerry won crushing caucus victories in Michigan and Washington on Saturday, trouncing his Democratic presidential rivals and predicting, "George Bush's days are numbered."
The Democratic front-runner by far, Kerry fashioned his latest wins by outsized margins. The Massachusetts senator's share of the vote in a multi-candidate field hovered at 50 percent in Washington and Michigan.
In classic front-runner's style, Kerry paid rivals Howard Dean, John Edwards and Wesley Clark little mind in victory, focusing instead on the Republican in the White House.
"This week George Bush and the Republican smear machine have begun trotting out the same old tired lines of attack that they've used before to divide this nation and to evade the real issues before us," the Massachusetts senator told a Democratic Party dinner in Richmond, Va.
"They're the ones who are extreme. We're the ones who are mainstream."
He added, "George Bush's days are numbered -- and change is coming to America."
Aides said the speech was designed to reassure the party faithful he would fight far harder against GOP attacks than Michael Dukakis, the former Massachusetts governor who led the party to defeat in 1988.
Dean, the fallen Democratic front-runner, had his best showing of the campaign season. He finished second in Washington with 30 percent of the vote and was a distant runner-up in Michigan. But that was cold comfort for the former Vermont governor, whose once promising campaign unraveled further when the head of a major union withdrew his support.
Democratic officials said Gerald McEntee, head of the American Federation of State, County and Municipal Employees, delivered the news in a meeting in Burlington, Vt.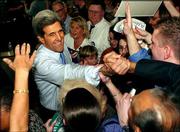 Like Dean, Edwards and Clark signaled in advance they had scant hopes for success in Saturday's contests. They aimed their efforts at Tennessee, Virginia and Wisconsin, states still ahead on the campaign calendar.
Returns from 97 percent of Washington's precincts showed Kerry with 49 percent and Dean with 30 percent. Rep. Dennis Kucinich of Ohio had 8 percent; Edwards had 7 percent and Clark had 3 percent.
With final returns from Michigan, Kerry had 52 percent, Dean 17 percent, Edwards 14 percent, Sharpton and Clark at 7 percent, and Kucinich at 3 percent.
Sharpton finished a close second to Kerry in caucuses in and around Detroit, qualifying for at least seven convention delegates.
He predicted similar achievements when primaries are held in states with large urban areas, adding, "We can accumulate the delegates we need to go to the end of this campaign, to get 300 to 400 delegates."
Copyright 2018 The Associated Press. All rights reserved. This material may not be published, broadcast, rewritten or redistributed. We strive to uphold our values for every story published.