Clyde — Some businesses are all about finding the right blends.
Lorraine Palmer and Johnita Crawford first met because of a sore foot and ultimately decided they had the right blend of talents, interests and energy to create a business together.
They determined that their hometown of Clyde, a northcentral Kansas community of 909 people, was a place where a company and community could prosper together. So they're staying put.
And, most important is the blending that goes into their product. Palmer and Crawford, co-owners of the Cloud County Tea Co. and Ancient Roots Herbal Apothecary, make specialty teas.
"Tea is not what you'd expect in Kansas, and of course we don't grow our own ingredients," Palmer said. "But we do all the blending here."
Palmer and Crawford began the business about a year ago in a converted Baptist church. It has grown into a wholesale and retail company, supplying tea blends to more than 80 stores in 13 states, including the Sunflower Shoppe and Piccadilly Market in Wichita.
The journey has been swift, but not always smooth.
Different backgrounds
Palmer brought with her a long history in both mainstream medicine, where she was trained and worked for several years as a laboratory technician, and in herbal medicine. Eventually, she started her own business as an herbalist, formulating specific herbal blends as natural remedies for various physical complaints.
"I started working out of the house, driving to visit clients," she said.
When she met Crawford, who came to her for help with foot pain, a partnership was soon born.
Crawford brought 20 years' experience as a wife and mother, along with a varied background of jobs, from managing a convenience store to operating heavy machinery for a construction company.
"There were a lot of things about going into business that our backgrounds had not prepared us for," Palmer said. "We quickly learned that getting venture capital is not easy. We were very lucky to find some investment partners who believed in us. We sold 10 percent of the stock in our company to raise money for our first tea machine."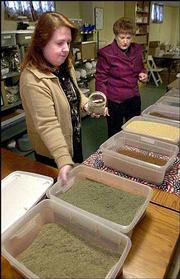 That machine is now operated by Palmer's husband, Kevin.
Outside help
Aside from their investors, they found other help.
"The Small Business Development Center in Wichita is a wonderful place," Palmer said. "They transformed us from two women in business to two businesswomen. They helped us learn how to write a business plan that would impress the bank and how to develop business strategy."
The Small Business Development Center at Wichita State University offers help to people starting a new business or trying to expand their business.
The Kansas Department of Commerce also has been helpful, Crawford said.
"I would urge anybody with a good idea for starting a business to talk to them," she said. "Ruth Smerchek has been our advocate and adviser. Anytime she hears about something that might help us, she's on the phone letting us know."
Smerchek, a business development specialist with the Kansas Department of Commerce, said Cloud County Tea Co. was exactly the kind of business the department liked to see thrive in Kansas communities.
"We try to help a business become sustainable and establish growth," she said. "They have done things right. They are creating new jobs, one job at a time. We've been delighted to be able to help them."
Finding niche
Studying their market and the competition led Palmer and Crawford to concentrate on blending gourmet herbal teas for the high-end food market, rather than trying to market through health food stores.
"We found there were all kinds of things out there on the health and nutrition side," Palmer said. "But there was a big need for gourmet teas in food markets. Our blends stress the taste and drinking pleasure."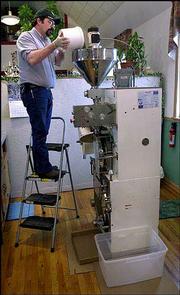 The Cloud County Tea Co. buys its base products of 54 herbs, fruits and spices from two brokers. The company uses only pure ingredients that are free of chemicals and pesticides, with no caffeine, no added sugar, no artificial ingredients and no flavor enhancers. The formulas for blending those into teas that match their company motto, "Taste the Journey," are their own.
They sell boxes of 20 tea bags in 10 flavors for $4.95 a box. Tea for Two gift packets, in the five most popular flavors, sell two for $1.
"We've made a lot of teas," Palmer said. "Some were really good, and those we've kept. A lot of them ended up as compost. We keep working to maintain and improve our blends."
Growth potential
Now that they've found success, they're turning to new markets and to new products from an herb base, including a line of cordials just right for topping ice cream or cheesecake, as well as preserves and jellies. Soon, they hope to offer an iced tea concentrate and eventually even a bottled product.
"We've found that we spend a lot of time traveling now, doing demonstrations and marketing," Crawford said.
In the not too distant future they realize they'll need to find a bigger building.
"When we moved in here, we thought we had all the space we'd ever need. Now, just a year later, we're packed in here and we're renting two storage units downtown," Palmer said.
They have been offered larger buildings in nearby, and not-so-nearby, towns, but they plan to stick with Clyde.
"This isn't just for us. It's for the community, too," said Crawford, a native of Clyde. "We're committed to staying here and to making a difference here."
The pair has hired only part-time labor, mostly retired Clyde residents, so far. But they hope that their growing company someday can offer work to the handicapped as well as provide jobs for family wage-earners.
They also see possibilities for new development that will support their business.
"We'd love to find someone with greenhouse experience that would grow vanilla beans for us," Palmer said. "Vanilla beans are very expensive, more than $200 a pound. It could be a lucrative business."
So could bottling their product when they move toward producing ready-to-drink cold teas.
"I like to think that other people in Clyde or nearby towns could benefit from our business by gaining opportunities of their own," she said. "Obviously, we won't be able to do everything for ourselves."
So far, they have done all their own packaging, logos, artwork and marketing. But they see a day coming when they will need help there, too.
"We've hired two salespeople and we're considering hiring a marketing director," Palmer said. "Our growth is good for us and good for the town."
Copyright 2018 The Associated Press. All rights reserved. This material may not be published, broadcast, rewritten or redistributed. We strive to uphold our values for every story published.