He's heard them so often that longtime North Lawrence resident Ted Boyle doesn't even notice anymore the daily procession of train whistles.
But that's not the case for many newer residents of his neighborhood. That's why the North Lawrence Improvement Assn. and city officials are investigating whether the area could be declared a "quiet zone" under regulations being developed by the Federal Railroad Administration.
"We think it could be a big plus for North Lawrence," said Boyle, president of the association. "It would mainly be for the benefit of new residents moving into North Lawrence. For the older residents, it is kind of like, 'What train whistles?'"
City officials are exploring whether Union Pacific trains could stop blowing their whistles at crossings at Third, Fourth, Seventh, Eighth and Ninth streets.
The peace and quiet, though, may come at a cost to city officials. Federal Railway Administration officials still are in the process of writing the final regulations, but a preliminary draft would require cities to install additional safety devices at each crossing in exchange for eliminating the whistle blowing.
Currently, each crossing has a mechanical arm that blocks one lane of traffic in each direction. Administration officials are considering requiring quiet zone crossings to have mechanical arms that would block both lanes of traffic to make it more difficult for motorists to drive around the warning devices.
John Bromley, a spokesman for Union Pacific, said such devices cost as much as $150,000 per crossing. In lieu of the upgraded crossing arms, cities may be allowed to build medians that would make it difficult for motorists to drive around a crossing device.
Bromley said Union Pacific officials thought crossing improvements were an important part of creating a quiet zone.
"We hear every day from people about train whistles," he said. "Our concern is always the safety side of it. This isn't something that should happen with just the stroke of a pen."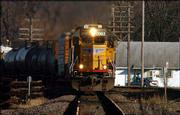 City Manager Mike Wildgen said cost issues hadn't been addressed by his office.
"If it is that kind of improvement that we're forced to make, then we'll have to explore it more," Wildgen said. "Our goal right now is to inventory what we have and find out if we are eligible."
Because the rules are still being written, Federal Railway Administration officials say the soonest cities would be able to implement a quiet zone is April 2005.
Boyle said he was optimistic the quiet zone would become reality. He said it would be a major change for the area because 70 to 100 trains per day go through the neighborhood depending on the time of year.
"Some of us will probably miss the whistles, but it is important that we do this," Boyle said. "There are people who have called me and asked about the quiet zone before they buy a house. I think it has determined whether some people are going to buy a home over here or not."
Copyright 2018 The Lawrence Journal-World. All rights reserved. This material may not be published, broadcast, rewritten or redistributed. We strive to uphold our values for every story published.