Paul Dickens and Virginia Studer were dressed in Christmas red when they sat down Saturday to enjoy a traditional Christmas dinner with other area residents at First United Methodist Church, 946 Vt.
"We think the food is terrific," said Dickens, 87, who spent several years as principal at Cordley Elementary School.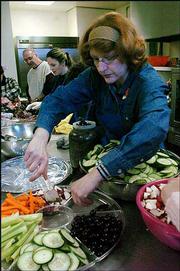 "The service is pretty good, too," said Studer, 86, of Topeka.
Good food and good service are always priorities during the annual Community Holiday Dinner. Organized by volunteers, the annual dinner is provided free for those who generally don't have family close by and who otherwise might not have a Christmas dinner.
About 100 volunteers worked at the church preparing the food and serving it to nearly 700 people this year, said Brower and Mary Birchill, key organizers of the event. Of those, more than 300 people who were unable to leave their homes had the meals delivered to them.
"Everything went pretty smoothly," Brower Birchill said. "Most of us know what to do. This is our 11th year, and we are pretty well organized."
Every year there are always a few minor glitches, but they get worked out, Brower Birchill said. This year, somebody forgot to warm up the Cheez Whiz and stick the rolls in the oven when they were supposed to, but those were not major problems, he said.
"The chef has a lot to worry about," Brower Birchill said.
Among the food selections were turkey, ham, mashed potatoes, vegetables and pies of all types. The food was donated from a variety of sources and included 35 turkeys and 28 hams, Brower Birchill said.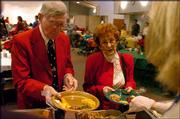 Lawrence resident Phyllis Hubbard, 77, has been volunteering to help with the dinner for several years. Saturday she helped serve the pies.
"I don't have any family here, and this makes me feel like I'm doing something worthwhile," Hubbard said.
Aaron Seyler, a Kansas University senior from Olathe, had similar reasons for volunteering to help with the meal. This was his first time to help out.
"My family is out of town and I figured I could do this instead of being home alone or over at friends," Seyler said. "This is something I believe in doing, and I've always wanted to do it."
Copyright 2018 The Lawrence Journal-World. All rights reserved. This material may not be published, broadcast, rewritten or redistributed. We strive to uphold our values for every story published.