Going to the grocery store and playing board games with his children during the Christmas holidays never seemed so good to Lt. Col. Lee Tafanelli.
"I know they may seem mundane, but those are the things myself and other soldiers miss," he said.
An officer with the Kansas Army National Guard, Tafanelli, of Ozawkie, on Wednesday will leave for Iraq. He won't return for about a year. Meanwhile, troops in Iraq and Afghanistan prepared for Christmas by putting up trees and decorations and working to make the best of their situations.
"We are away from our families now, but the end of our time in Iraq is in sight," Lt. Col. Michael Dittamo, commander of the 2nd Battalion of the 130th Field Artillery, wrote in an e-mail. Dittamo is from Topeka.
Dittamo's battalion, which includes soldiers from Lawrence, has been in Iraq about a year.
"We hope to be back at Fort Riley by the middle of February," he wrote.
Families at home
Stateside, many families are having Christmas celebrations minus some loved ones.
Dr. Al Stuber, of Lawrence, said this would be the third Christmas his son Capt. Pat Stuber has spent in a war zone. Pat Stuber is the executive officer of Iron Troop, a mechanized infantry combat team helping rebuild Iraq.
"He's been in Iraq for almost six weeks," Stuber said of his son, who normally resides in Memphis, Tenn., with his wife, Suzan. "We've gotten kind of used to him being gone. It's probably harder on his wife."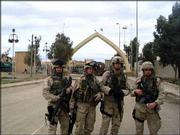 Al Stuber said he received phone calls from his son once or twice a week and received e-mails from him.
Tafanelli said he considered himself lucky to be able to spend this Christmas with his family when so many soldiers won't be home.
Commander of the Iola-based 891st Engineer Battalion, Tafanelli has been at Fort Sill, Okla., the past few months training to perform engineering duties in Iraq. The 600 soldiers in the battalion were released last week to spend the holidays at home with family.
War zone holidays
"It's been very nice to spend time as a family," Tafanelli said. "But I know and my family knows that these days will pass rather quickly. We're just grateful that we have some time together."
He said much of his time at home has been spent with his wife, Tammy, and children-- Nicholas, 11, and Francesca, 8 -- sitting around a fire, drinking hot chocolate and talking.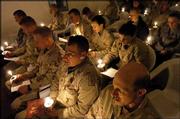 In Afghanistan, troops are preparing their own holiday celebrations.
Sgt. 1st Class Matt Fearing said he and other soldiers stationed with him in Afghanistan were holding back opening gifts until Christmas Day, which will be today in the United States.
Fearing, an assistant principal at Southwest Junior High School in Lawrence, is with the Kansas Army National Guard's 105th Mobile Public Affairs Detachment, based in Topeka and linked with a detachment from Oklahoma City.
"We have our gifts from home and gifts from friends and loved ones, but we're not exchanging gifts within the office," he wrote in an e-mail. "We are sharing our time and laughs and celebration together."
Support from stateside
Fearing said a Christmas tree was up in his office building along with stockings and other decorations. Several soldiers have been singing Christmas songs.
"Our big thing right now, of course, is trying to get a call in to our wives, children and parents," he wrote. "It is great hearing a voice from home."
Dittamo wrote in an e-mail that soldiers were "deluged with packages from friends, families and numerous supporters we have never met."
"We have an embarrassing wealth of goodies and most guys leave things out in the communal areas to share," Dittamo wrote. "We really feel the support of our communities. The candies and kids' toys we received have piled up and on Christmas we will be sharing with the neighborhood children outside our camp."
The 130th Field Artillery is based in Hiawatha and included about 350 soldiers from all over Kansas. This has been a particularly difficult year for the battalion as two of the soldiers, Staff Sgt. Clinton Wisdom, of Atchison, and Spc. Don Clary, of Troy, were killed in a car bomb explosion in Baghdad in November.
Santa in the desert
But Dittamo said that Christmas is still Christmas.
He wrote that troops would remain on duty Christmas Day, but they would receive a special meal that includes steak, lobster or crab and turkey, in addition to a long list of desserts. Decorations also have made for a good time.
"The soldiers have decorated their work and living areas and everything has a festive though busy feeling," Dittamo said. "The troops have built a sled and with the Santa suit from Headquarters battery the people have been doing pictures with Santa out by the entry gate all week. It is an interesting souvenir to have Santa in the desert."
Copyright 2018 The Lawrence Journal-World. All rights reserved. This material may not be published, broadcast, rewritten or redistributed. We strive to uphold our values for every story published.